Kazakhstan's WTO accession, a long winding road it may be but hopes remain strong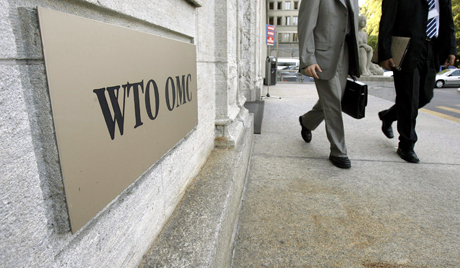 By Sara Rajabova
20 years after Kazakhstan expressed its desire to join the WTO - World Trade Organization - the country is still waiting to see its membership approved. The relatively young nation has already confirmed it is very eager to complete such a milestone.
Despite two decades of renewed efforts, Kazakhstan has not lost faith its officials' persistence will yield positive results. Astana hasn't given up on the idea of becoming a WTO member.
Membership is expected to generate accelerated economic growth by opening up Kazakhstan to foreign investors. Such an opportunity would be most welcome as the country is currently experiencing a great economic hardship due to the dramatic fall in global oil prices. On the other hand, Kazakhstan was affected by Russia's economic slump.
The Kazakh foreign ministry recently expressed hope that its WTO membership will be completed this year.
"On January 20 this year, we initialed the text of the agreement with the EU and we hope that this year, after a complicated bureaucratic procedure involving 28 EU member countries, we will be able to sign this agreement and begin working along its lines," Kazakh media quoted Foreign Minister Yerlan Idrissov as saying.
Kazakhstan, which is the largest economy in Central Asia, first submitted its application for WTO membership in 1996, almost two decades ago.
Astana previously attempted to conclude its WTO negotiations in 2013, but accession talks failed to proceed as rapidly as the government had hoped. Again in 2014 efforts were thwarted after WTO representatives explained that Kazakhstan would have to resolve discrepancies between Kazakhstan's bilateral market access agreements with WTO members.
Bruce Pannier, an expert on Central Asia and Senior Correspondent at Radio Free Europe/Radio Liberty told AzerNews that Kazakhstan's join to WTO is possible in near future, however, it is difficult to guess the right time.
"Kazakhstan has been negotiating its entry into the WTO since the mid-1990s, nearly 20 years. The membership process to the WTO is often long so Kazakh officials could rightly say it takes time and Kazakhstan is close to being admitted. Kazakhstan is in the advanced stage of accession negotiations. That being said, for the last couple of years there have been expectations that "this will be the year." It was said in early 2013 and again in early 2014 and Kazakhstan still is not a WTO member state. So, I would say it is possible and even likely Kazakhstan will join the WTO in the near future. I could not say that Kazakhstan would join the WTO this year, however," Pannier explained.
Kazakh Minister Idrissov confirmed how important the WTO membership is to the country, not just economically but politically.
"This is a balancer of our global economic relations. Through the WTO, we will get access to an extensive global trading system, to its standards, rules and regulations. These same rules and regulations will apply to Kazakhstan in its trade with other countries. So, for us the WTO is a signifier of growth, which we are consistently working towards," he declared.
Pannier said joining the WTO would facilitate Kazakhstan's trade with more than 160 other WTO member countries; adding that the organization is all about reducing obstacles to international trade.
"For Kazakhstan this could be especially important because of its geographic location. Kazakhstan is situated in the heart of the Eurasian continent so it could serve as a transit route from East to West and from South to North. Kazakhstan has been developing its railways and roads with the aim of becoming a center along major trade routes," he said.
However, one of the stumbling blocks in Kazakhstan's way to the WTO is its commitments to the Customs Union that it formed in 2010 with Russia and Belarus. Kazakhstan's WTO accession bid was slowed down when it joined the Customs Union, which was a first step in forming the Eurasian Economic Union. It led to a rise in some trade tariffs vis-à-vis other third parties, thus requiring new discussions about the conditions of its WTO entry.
On January 1, 2015 the treaty between the presidents of Russia, Kazakhstan and Belarus authorizing the Eurasian Economic Union went into effect. EEU membership has further complicated post-Soviet country's negotiations with the WTO.
However, Kazakh foreign minister said EEU membership doesn't prevent the country from joining other projects.
"The Eurasian Union does not mean that we are limiting ourselves only to this project. We are working in different directions, as evidenced by the successful completion of negotiations last year with the European Union to enhance partnership and cooperation and on Kazakhstan's accession into the WTO. We hope that both processes will be completed this year," Idrissov said.
Pannier further emphasized that taking account Astana's EEU membership, the picture is very confusing. "The WTO has its set of regulations and the EEU has its own set of regulations. The EEU offers members special trade advantages and establishes rules for trade outside the EEU. Under such rules Kazakhstan, for example, should not be offering some of its domestic products for export to countries outside the EEU at the same, or lower price than it offers these goods to EEU member states," he said.
He cited as another example the re-export of goods from outside the EEU, noting that this was the cause of great debate in Kyrgyzstan before that country joined the EEU at the start of this year.
"A significant part of Kyrgyzstan's economy was based on the purchase of goods from China that were then re-exported to neighbors, particularly to Kazakhstan," Pannier said.
He added that once the Customs Union of Belarus, Kazakhstan and Russia was formally established, Kazakhstan had to close its borders to Chinese goods being brought from Kyrgyzstan.
"Kyrgyzstan and China are WTO member states and when Kazakhstan is admitted the three should be able to trade freely under WTO regulations, meaning Kyrgyz merchants should be able to return to re-exporting Chinese goods to Kazakhstan. But, would EEU rules prohibit Kyrgyz merchants from selling Chinese/non-EEU produced goods to Kazakhstan when Russia also wants to sell the same products to Kazakhstan?" Pannier underscored.
--
Sara Rajabova is AzerNews' staff journalist, follow her on Twitter: @SaraRajabova

Follow us on Twitter @AzerNewsAz