20 December 2016 17:54 (UTC+04:00)
3 638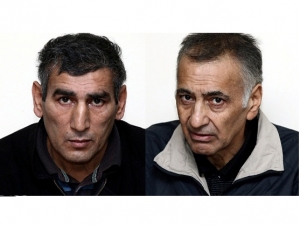 By Rashid Shirinov
The International Committee of the Red Cross (ICRC) has visited the two Azerbaijanis, Dilgam Asgarov and Shahbaz Guliyev, who are kept hostages by Armenian forces in Nagorno-Karabakh.
Spokesman for the ICRC Baku office Ilaha Huseynova told APA on December 20 that the visit took place a few days ago. The ICRC provided information from the families to the hostages, and delivered Dilgam and Shahbaz's messages to their relatives.
Huseynova noted that the ICRC, in accordance with its mandate, visits the hostages to check their detention conditions and treatment with them, as well as to help the hostages communicate with their families.
The two citizens of Azerbaijan were detained by the Armenian armed forces in July 2014 while visiting their native places and graves of loved ones in the occupied Azerbaijani Kalbajar region. Moreover, Armenian forces killed the third Azerbaijani citizen Hasan Hasanov.
Later, Guliyev and Asgarov were judged illegally by the unrecognized courts of a separatist regime in occupied Nagorno-Karabakh. Following an expedited "judicial process" in December 2015, Asgarov was sentenced to life imprisonment and Guliyev to 22 years. Attempts of Azerbaijan to provide justice and to free its citizens are still unsuccessful.
Azerbaijan's State Committee on Affairs of Refugees and IDPs, the State Commission on Prisoners of War, Hostages and Missing Persons and other agencies have repeatedly urged international organizations, including the ICRC, to assist in release of Guliyev and Asgarov, whilst the problem remains topical yet.
Earlier, the voluntary journalists created "Visit Dilgam and Shahbaz, witness the reality" initiative group in July 2016 to bring the problem to wider attention. The group held a meeting in Baku in December invited the international community, including the Armenian ombudsman, to contribute in releasing the two Azerbaijani hostages.
Azerbaijan, whose over 4,000 citizens were taken captive, hostage, or went missing as a result of the Nagorno-Karabakh war, has repeatedly declared its readiness to begin negotiations with Armenia to free the captives and resolve the long-standing Nagorno-Karabakh conflict.
However, the Armenian side keeps ignoring all attempts of Azerbaijan and international organizations, thereby disrespecting the international law and hindering the settlement of the conflict.
Related News