Sacred energy of Ateshgah temple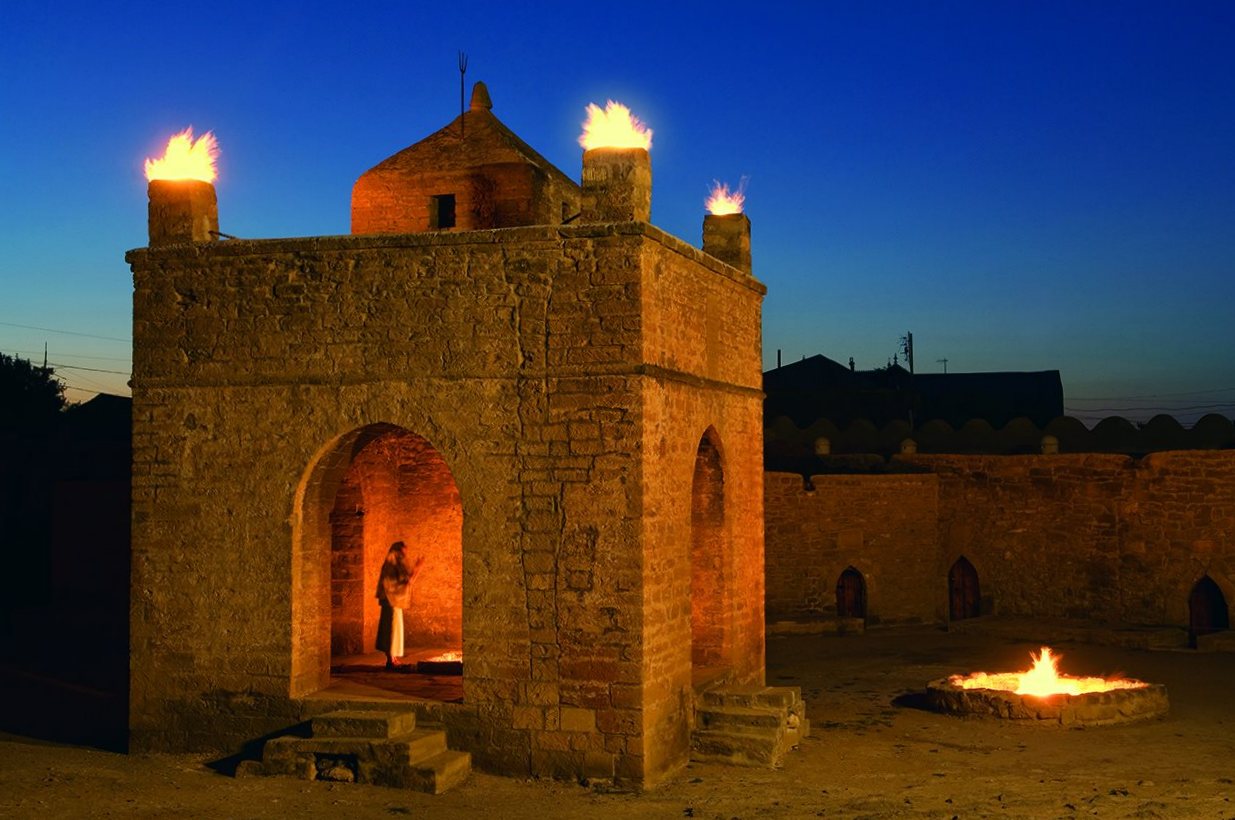 By Nigar Orujova
While the bite of winter can still be felt, spring is most definitely on its way and soon Azerbaijan will be able to enjoy a much kinder and warmer weather; and this means everyone favorite holiday is around the corner - Novruz Bayram or the New Year.
Last week the country celebrated the first Tuesday before the holiday – Water Tuesday. It is one of the four Tuesdays, each of which is dedicated to the awakening of one of the natural elements.
Usually preparation for Novruz begins a month prior to the festival. Each of forthcoming 4 weeks is devoted to one of the four elements and called accordingly in Azerbaijan. Each Tuesday people celebrate the day of one of the four elements - water, fire, earth and wind.
Rooted in Zoroastrianism - the oldest of all monotheist religions - Novruz Bayram has been celebrated since ancient times. The spring new year has been welcomed by holidays in Azerbaijan, Iran, Afghanistan, Tajikistan, Uzbekistan and other Eastern countries. Novruz, which means "new day" in Persian is marked in the northern hemisphere on the day of the equinox (21-22 March), which is the beginning of spring.
Zoroastrianism was founded by the Prophet Zoroaster in ancient Iran approximately 3500 years ago and revolves around the worship of fire.
With a history that stretches back millennia, Baku is home to the Baku Ateshgah or "Fire Temple". The temple is an ancient Hindu castle-like religious edifice in a suburb of greater Baku, which was initially recognized as a Zoroastrian fire worship place.
The temple is included in the UNESCO's preliminary World Heritage list and considered as one of the most interesting monuments due to its historical value.
Built in the 17-18th centuries, the temple is located on a place well known for its natural burning-gas phenomenon.
Zoroastrians monks highly rated mystical significance of the inextinguishable fire and came here to worship it. Dozens of hermits living in Ateshgah worshiped fire and led an ascetic life, torturing their flesh and cleansing their soul.
The pentagonal complex, which has a courtyard surrounded by cells for monks and a tetrapillar-altar in the middle was abandoned after 1883 when the movement of the earth's surface stopped the yield of natural gas. Pilgrims thought it was a punishment from the gods and began to disperse.
Until now, this place is believed to possess an extraordinary energy. Today, Ateshgah is a newly reconstructed museum, which attracts the attention of many tourists.
Located 30 km away from the capital, on the Absheron Peninsula, the temple is a perfect place to visit during one of the festive Tuesdays.
--
Nigar Orujova is AzerNews's staff journalist, follow her on Twitter: @o_nigar
Follow us on Twitter @AzerNewsAz