Goychay marks Day of Pomegranate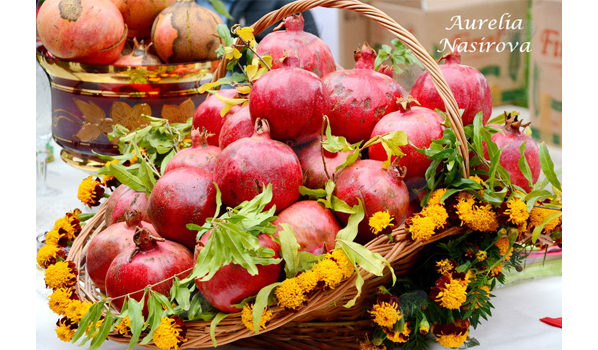 By Nigar Orujova
One of the most outstanding Azerbaijani cities Goychay has magnificently celebrated the Day of Pomegranate, the king of the fruits.
It is pomegranate that makes the quiet and calm city of Goychay a major attraction of tourists in November. The region is famous for being home to many sorts of delicious sweet pomegranates. Since 2006, the life is overflowing in the city on November 1, when all the streets are joyfully decorated.
On this day, which is marked across the city each year, people from around the region bring their pomegranates and products made from it and hold contests for the sweetest and give greatest concerts.
The main attraction of the beautiful pomegranates is its sweet and healthy seeds. Pomegranate contains 8-19 percent of glucose and fructose, 3-7 percent - citric acid, minerals as well as vitamins, cellulose, and pectin substances. This fruit is extremely rich in antioxidants.
Pomegranate juice improves appetite and treats anaemia and cures other diseases.
Goychay's pomegranates have gained international recognition as the true Azerbaijani pomegranates. The secret of the magnificent taste and quality of the Goychay pomegranates is the unique microclimate and fruitful soil of the region.
A long table is arranged on the main street, which is full of delicious shashlik, pilaf, and floury treat kutaby.
Children on this day are dressed like little pomegranates and perform at the festive. Women in national costumes prepare lip-smacking food and drinks.
Guests of the festival can also taste pomegranate Narsarab, preserves here.
After a light meal, you can drink a cup of flavored tea with eastern sweets, while watching music performances and athletic competitions.
Tourists should not forget to drink one of the most popular beverages of the festival - pomegranate juice, which is presented in all the varieties here, sweet and sour, tart and winy.