19 February 2014 15:16 (UTC+04:00)
1 368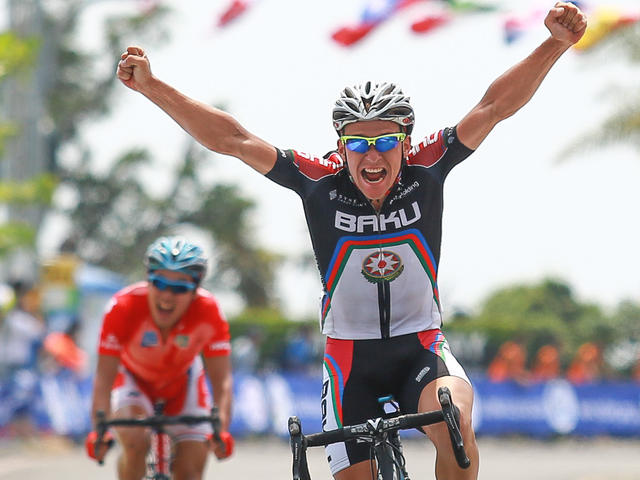 By Nigar Orujova
General Manager of the Continental-ranked Synergy Baku team said Azerbaijanis can be good enough to ride the Rio Olympics in 2016, Azerbaijan Cycling Federation reported.
"Just one rider going to Rio is our target, but given a bit of luck in the races, we could end up qualifying more," Ireland's David McQuaid believes. "Azerbaijan is on the UCI Europe Tour, which means our qualification process is the same as Ireland's, for example. It's all based on qualifying with Euro tour points."
McQuaid is hopeful of a stronger campaign in 2014 now that a year of learning and experience is under the squad's belts.
The team is an Azerbaijani-backed, with the core aim of qualifying the country for the 2016 Rio Olympics.
However, McQuaid's 17-rider roster has an international feel this year, with Belfast's Connor McConvey riding again in the squad's colors and three-time Olympian David McCann working on the management side, giving it very much an Irish flavor.
Having been very hastily put together on the eve of the last season, the team has had more time this winter to put an expanded and improved race program in place. "We have a nice race program in 2014, because we have had the time to plan it this time around," McQuaid said.
"Because the team was thrown together over the Christmas before the last season, I didn't have a lot of time to get us race entries. So our early season consisted mainly of the Asian tour where I had good contacts or friends to call on."
"I think our first European tour race was the Ras in late May. But this time we've had a fuller program in place even before we were preparing to get together for our pre-season training. So when we went to our first camp in Calpe just before Christmas, I was in a position to outline all of the race starts we had lined up to our four directors, including Jeremy Hunt and McCann," he said.
"The four of them were then able to sit down and work out the program for our 17 riders till the end of May", he said. "It's definitely been a lot more structured."
McQuaid hopes that the trio - Schweizer brothers and Daniel Klemme - can perform well at the Tour de Langkawi, which will start in late February in Taiwan.
He also seemed more relaxed and expressed more confidence in beginning the season with better results.
"We have a long season and can race until November. So there was no rush to start the season for some of the riders. We're racing a lot more in Europe, simply because we have had time to plan and get a bigger program in place," McQuaid said.
The team has a program of races in France lined up in April, and getting starts in European events is crucial for advancing the team's Azerbaijani riders to the stage where they can be good enough to ride the Olympics in 2016 and to score the qualification points they need to get there.
Related News