Best Azerbaijani Paralympic athletes in 2013 awarded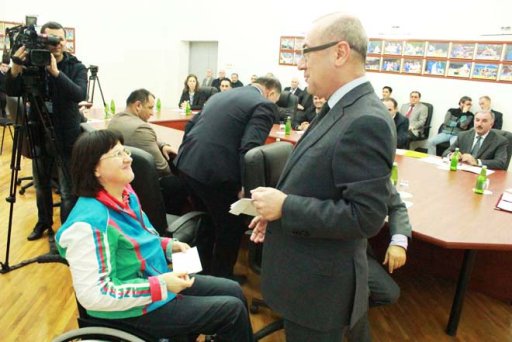 By Nigar Orujova
The best Paralympic athletes of Azerbaijan in 2013 were awarded in a ceremony, which was attended by athletes, coaches, and the National Paralympic Committee's staff.
The awards ceremony was held at the Paralympic sports complex in Sumgayit, last week.
Opening the ceremony, President of the NPC Ilgar Rahimov spoke about the adopted strategic plan for the NPC in 2013-2016, the development of the Paralympic movement in the country, competitions, completed projects, and significant accomplishments of athletes in international competitions in 2013.
Rahimov said, Azerbaijani Paralympic athletes ended the last year with 12 gold, four silver and seven bronze medals, two of them became world champions, three - the champions of Europe, and the national judo team became the European champion.
The awards ceremony also named the best Paralympic athletes in 2013, who together with their coaches were awarded special prizes.
The 2013 distinguished athletes' list includes Vladimir Zayets, Elshan Huseynov, Elena Taranova, Ilham Zakiev, Bayram Mustafayev, Ramil Gasimov, Muharram Aliyev, Kamil Aliyev, Samir Nabiyev and Sabina Abdullayeva.
Ten media representatives were also awarded with special diplomas "For active coverage of the Paralympic movement in the country".
Mehman Karimov, a member of the NPC executive committee, presented the project on sport initiative of young people with disabilities, which will be implemented with the support of the U.S. Embassy in the country's regions.
Azerbaijani Paralympic athletes are achieving more success year by year. Currently, they are taking part in 10 sports competitions. The world's first Children's Paralympic Committee was established in Azerbaijan in September 2013.
Ten Azerbaijani Paralympians athletes accomplished remarkable success at the Paralympic Games in France in July 2013, while Azerbaijani athlete broke world records at the 3rd IPC European Shooting Championship in October.
At the summer 2012 Paralympic Games in London they gained 12 medals and became 27th out of a total of 166 countries. At the Paralympic Games in Beijing in 2008, Azerbaijan won 10 medals, ranking 37th.
Paralympic athletes participated in the 10th Atlanta Summer Paralympic Games in 1996 for the first time in the history of Paralympic sports in Azerbaijan with two athletes representing two sports.