Turkmenistan seeks to boost up potential of Caspian ports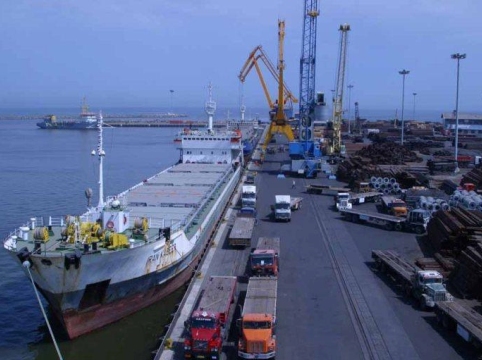 By Aynur Karimova
Turkmenistan, one of the five Caspian-littoral countries, has proposed to hold an international meeting to discuss boosting the potential of ports of the Caspian states.
This offer was made by Turkmen President Gurbanguly Berdymukhamedov during the high-level talks with his Iranian counterpart Hassan Rouhani in Tehran on November 22-23.
"Currently a major project is underway to construct the Turkmenbashi International Sea Port, which will help develop mutual transport links with the Iranian ports of Anzali and Neka on the Caspian Sea," Berdymukhamedov said.
Boosting the potential of the Caspian ports will allow multiplying cargo transportations through the Bandar Abbas Port to the Persian Gulf, according to the Turkmen president.
Berdymukhamedov also proposed to establish the Turkmenistan-Iran Interstate Coordination Commission for Trade Issues to modernize interconnection among the ports.
Currently, Turkmenistan's modernized large-capacity vessels are actively involved in freight transportations in the Caspian Sea, operating on international routes from the port of Turkmenbashi to the ports of other Caspian states.
Also, the legal status of the Caspian Sea was among the hot topics discussed by Berdymukhamedov and Rouhani.
The Turkmen president said the proposals put forward by Turkmenistan and Iran are a basis for new types and mechanisms of multilateral, mutually beneficial cooperation in the Caspian Sea region in such fields as security, emergency situations, trade and economic partnership, transport and communications.

He believes that all these creates favorable conditions for strengthening the mutual trust between the littoral countries, first of all, for developing the trade and economic relations.

Turkmenistan is the largest supplier of natural gas to Iran. The most convenient transportation route for Turkmen resources to the energy markets of the region passes through Iran.
Turkmenistan was the seventh leading importer of Iranian non-oil goods in the previous Iranian calendar year, which ended on March 20, 2015, according to the Iran Customs Administration.
The value of bilateral trade between Iran and Turkmenistan exceeded $4 billion in 2014, while this figure exceeded $2.62 billion in the first nine months of 2015.
Turkmenistan and Iran effectively cooperate within influential regional and international organizations and develop the mutually beneficial partnership in trade and economic spheres.
Moreover, a number of large-scale joint projects have been implemented by the two countries during the years-long cooperation.
--
Aynur Karimova is AzerNews' staff journalist, follow her on Twitter: @Aynur_Karimova
Follow us on Twitter @AzerNewsAz