Nearly one million Azerbaijani tourists visit Iran annually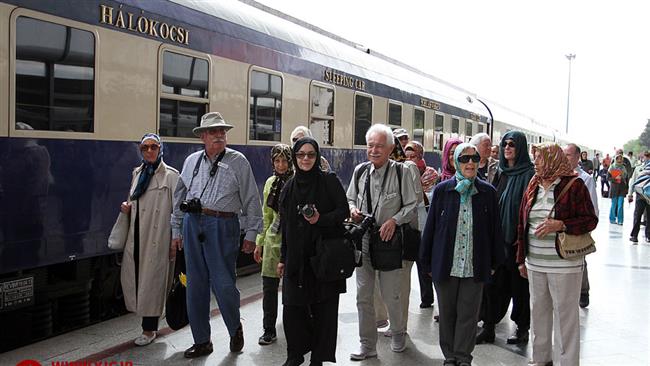 By Sara Rajabova
The number of Azerbaijanis visiting the country's southern neighbor Iran continues to increase steadily.
Masoud Soltanifar, the Iranian vice president has said nearly one million tourists from Azerbaijan visit the Islamic Republic every year.
Soltanifar, who also heads the Cultural Heritage, Handicrafts, and Tourism Organization, told Trend that ties with neighboring countries are important to Iran, adding that Tehran has been taking steps to increase tourist arrivals from neighboring countries to Iran.
Iran - with an ancient history, blend of cultures, different climatic zones, and natural beauty - is introducing measures to boost its tourism sector, which has been neglected after the 1979 Islamic Revolution.
The country is undertaking various steps to facilitate visa issuance for foreign nationals.
Within the framework of the plans to develop the tourism industry, Iran has recently revoked visa requirements for nationals from seven countries: Turkey, Lebanon, Azerbaijan, Georgia, Bolivia, Egypt, and Syria. The citizens of these countries can travel to Iran without a visa, according to a report published by the Iranian media.
Under the new visa requirement regulations, citizens from these countries can enjoy visa-free stay in Iran for a period of 15 to 90 days.
The Iranian authorities have already begun evaluating a visa waiver program, under which visa limitations will be lifted for citizens of 60 countries around the globe.
Soltanifar further noted that facilitating the issuance of visas was vital for the development of Iran's tourism sector.
He added that citizens of 190 countries can obtain a visa on arrival at the airport in Iran.
Tehran has also extended the validity period of these on-arrival visas, available at seven airports around the country, from 15 to 30 days, according to Soltanifar.
He further explained that the Iranian administration is also preparing to launch an electronic visa (e-visa) facility by next year, which will simplify the visa application process for tourists keen on visiting the country.
Over five million tourists visited Iran in the last fiscal year ending March 21, four percent more year-on-year (y/y), according to Morteza Rahmani Movahed, the deputy head of the Cultural Heritage, Handicrafts, and Tourism Organization.
In 2013, most tourists came to Iran from the following countries: Iraq (1.6 million, 52 percent more y/y), Azerbaijan (1.1 million, 59 percent more), Afghanistan (392,560, 27.4 percent more), Turkey (391,283, 0.34 percent less), and Turkmenistan (169,618, 19.8 percent more).
Since February 2010, Iran unilaterally abolished its visa regime for all citizens of Azerbaijan, with the exception of journalists.
Through an intergovernmental commission, Azerbaijan and Iran also agreed to simplify the visa regime and the introduction of disposable (30-day) visas for Iranian citizens in the territory of the Nakhchivan Autonomous Republic. The tourists will be charged ten euros as a visa fee.
Iran and Azerbaijan have enjoyed diplomatic relations since 1918. Iran recognized Azerbaijan's independence in 1991, and diplomatic relations between the two countries were established in 1992.
--
Sara Rajabova is AzerNews' staff journalist, follow her on Twitter: @SaraRajabova

Follow us on Twitter @AzerNewsAz