18 August 2015 17:31 (UTC+04:00)
1 246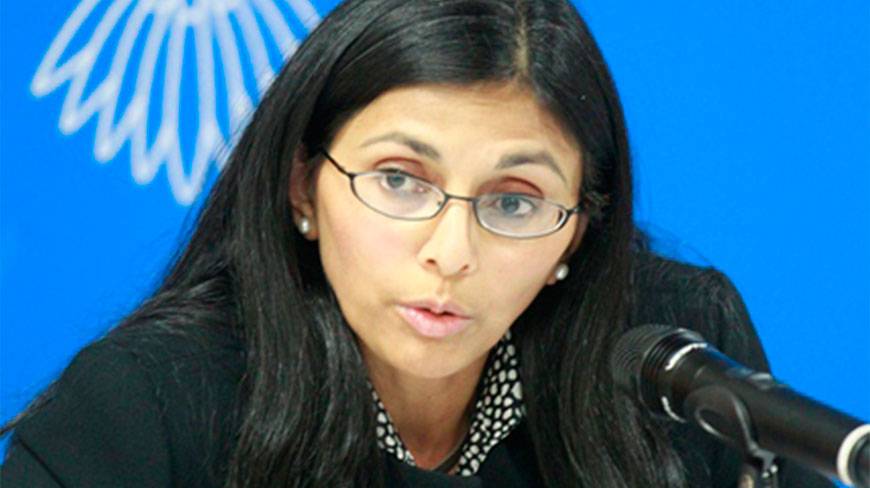 By Vusala Abbasova
The U.S. intends to support regional projects that provide for the development of economic cooperation between it and Central and South Asia, including the CASA-1000 electric power line project.
These remarks were made by U.S. Assistant Secretary for South and Central Asia Nisha Biswal, according to the CA-News.
The U.S. is actively monitoring processes concerning the energy and transport sectors in Central Asia, said Biswal.
She also highlighted the importance of the energy, infrastructure, and security sectors for regional integration.
The CASA-1000 will provide Afghanistan a valuable source of clean summer energy that could either be reexported to Pakistan or used to meet emerging domestic needs. Biswal said that the strengthening of Afghanistan makes some countries anxious of the region.
"We understand the importance of the issue of border security for the countries of Central Asia. We will continue to work in this direction," Biswal added.
Earlier, Biswal mentioned that the CASA-1000 project would not only create an energy grid that provides direct benefits to the Tajik, Kyrgyz, Afghani and Pakistani people but it would also establish an important model for energy and economic cooperation between South and Central Asia.
In her opinion, the joint work between the countries of the region could build the mutual trust needed to address other contentious issues, such as trans-boundary water sharing, in a more constructive manner.
The CASA-1000 electric power line project, a with total estimated cost of $997 million, would increase the volume of Tajikistan and Kyrgyzstan's electricity exports to neighboring Afghanistan and Pakistan by the end of 2018.
The project will enable the export of 1,300 megawatts of existing summertime hydropower surplus from Kyrgyzstan and Tajikistan, which has world's largest environmentally friendly and inexpensive electric hydropower.
The project is financed by the World Bank (WB), Islamic Development Bank (IDB), European Investment Bank (EIB), as well as the United States Aid (USAID).
The CASA-1000 will envisage creating the necessary infrastructure and systems for power transmission in the region.
---
Follow us on Twitter @AzerNewsAz
Related News