Turkmenistan, Turkey eye seaport construction project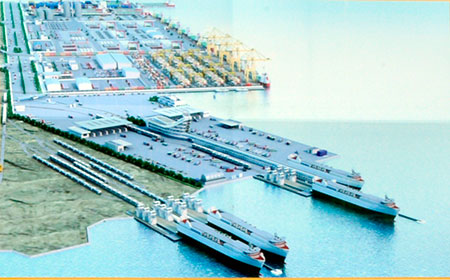 By Aynur Jafarova
Turkmenistan and Turkey have mulled the construction of an international seaport in Turkmenistan's Turkmenbashi city.
The discussions were held during a meeting of Turkmen President Gurbanguly Berdymukhamedov and Chairman of the Board of Governors of Turkey's Chalyk Holding Ahmet Chalyk.
Following an international tender Gap Inshaat, which is part of Chalyk Holding, was announced the general contractor of the project worth about $2 billion.
The foundation of the facility was laid in August 2013 with the participation of the Turkmen President and the Turkish Prime Minister.
A new international sea port on the Caspian Sea will become an important link to form state-of-the-art transport infrastructure and bring economic and trade cooperation between Asia and Europe up to a new level.
The project of the new international sea port envisages the construction of ferry, passenger and container terminals. The complex will include a general loading terminal, a terminal for bulk cargo, as well as shipbuilding and ship repairing plants.
The total area of a multifunctional port is more than 1.2 million square meters.
According to Turkmen media outlets, this project will join Central Asia, Caspian Sea countries with South Caucasus and Black Sea region with further exit to Turkey and European countries.
The shipyard will become a new enterprise for the national economy, the operation of which will mean the birth of domestic shipbuilding industry.