Catholicos-Patriarch of All Georgia to visit some events in Moscow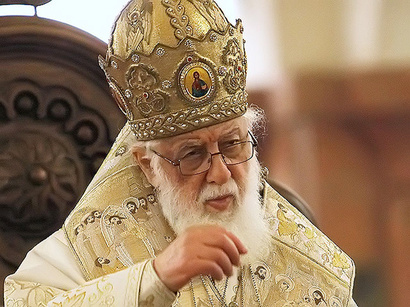 Georgian Orthodox Church delegation, headed by the Catholicos-Patriarch of All Georgia Ilia II, will participate in the celebration of the 1025th anniversary of Christianization of Kievan Rus. On Monday the delegation will depart for celebrations to be held in Moscow, Kiev and Minsk, the Patriarchate of Georgia said.
According to the report, Catholicos-Patriarch Ilia II will visit all three cities from July 23 to 30.
During his visit to Moscow Ilia II will meet with the Patriarch of Moscow and All Russia Kirill.
The Georgian side once again intends to raise the issue of reburial of the remains of two Georgian Bagrationi dynasty kings - Vakhtang VI and Teimuraz II from Astrakhan to Tbilisi.
Ilia II is a supporter of the idea of ​​the revival of the monarchy in Georgia. However, he considers that it is necessary to bring up one of the heirs of the royal dynasty to Georgia.