Thousands rally in London, calling for UK to rejoin EU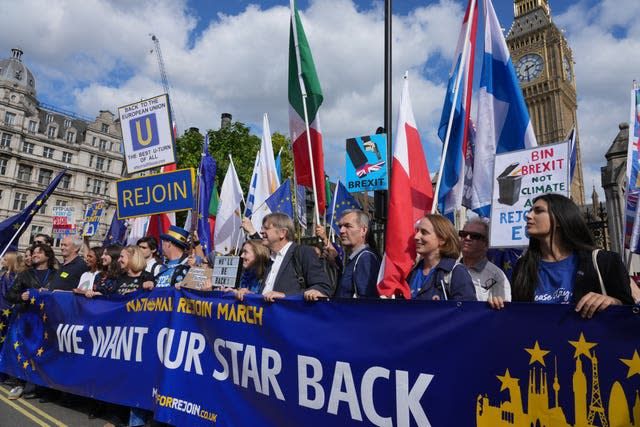 Thousands of anti-Brexit protesters on Saturday gathered in the British capital to call for rejoining the European Union, Azernews informs with reference to TRT World.
Organised by the National Rejoin March (NRM) on Saturday near Hyde Park, thousands of people marched toward Parliament Square and demanded "we want our star back."
The protesters were carrying EU flags and wearing hats and t-shirts which also featured the EU flag. They were also carrying banners that called on the government to resign.
Protesters also brandished placards reading "The road to rejoin the EU starts here", and "rejoin, rejoice".
Several motorists also beeped their horns in support of the march.
Mike Galsworthy, the head of the European Movement UK who also attended the march, said that Brexit is a betrayal of the working class and lower-middle-class workers in fishing, farming etc.
TODAY!

See you on Park Lane from 12 noon!
March to Parliament Square where we have an amazing rally ready with amazing speakers!

Don't sit at home wishing or moaning, join us! And if you can't - stay tuned right here! 🇬🇧♥️🇪🇺#MarchForRejoin#RejoinEUhttps://t.co/MjJtbisfZK pic.twitter.com/778UryDCN4

— National Rejoin March (@MarchForRejoin) September 23, 2023
---
Follow us on Twitter @AzerNewsAz