Iran arrests foreigners linked with terrorist groups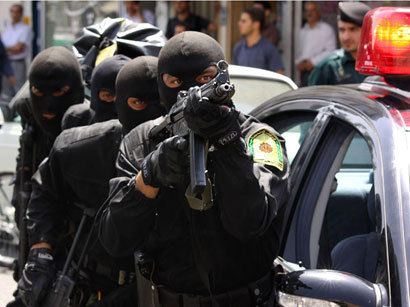 By Trend
Iran's security forces have thwarted terror plots in southern province of Fars, Mahmoud Alavi, the Islamic Republic's intelligence minister, said.
The ministry arrested several foreign citizens linked with "Takfiri" groups, Alavi said, the state-run IRINN TV reported.
Iranian officials refer to the extremist Sunni armed groups, in particular in Syria and Iraq, as Takfiri.
Alavi further said that at least 100 kilograms of explosives were seized from the terrorists.
The Iranian minister did not reveal further details about the nationality of the arrested people and their targets.
In recent months Iranian media have repeatedly published news about arrest of terrorists linked with extremist groups without sharing details.
Last month it was announced that Iran's central province of Semnan was a target of a foiled terrorist attack by the "Islamic State" (IS) terrorist group.
Earlier in August the intelligence ministry announced that several terrorists linked with the IS group, which had entered Iran through the border to carry out terrorist operations in central Iranian cities were killed in western country in a joint operation with the IRGC.
---
Follow us on Twitter @AzerNewsAz