11 November 2015 18:21 (UTC+04:00)
1 839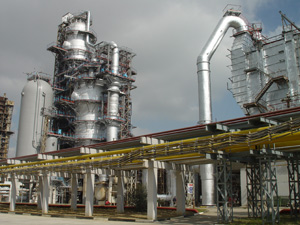 By Aynur Karimova
Baku Oil Refinery named after Heydar Aliyev and SOCAR Fugro LLC have signed an agreement on rendering geophysical and geotechnical services as part of the refinery's modernization, SOCAR reported on November 11.
SOCAR Fugro LLC is an Azerbaijan-Dutch joint venture.
The company announced that it has become necessary to carry out certain work on the topographical survey for the design of infrastructure at the plant and surrounding areas within the framework of implementation of the project on reconstruction and modernization of the oil refinery named after Heydar Aliyev.
"As part of this goal, an agreement for the provision of services and preparation of the relevant order with the SOCAR Fugro company was signed based on the list of activities to carry out topographic studies prepared by SOCAR Foster Wheeler Engineering Ltd. attracted as a designer and PMC-contractor for the project, the Fluor company," the company noted.
Department of Geology and Geophysics of SOCAR will work joinly with SOCAR Fugro.
The agreement signed envisages installation of geodesic signs of the second category, study of a number of refinery areas, as well as the infrastructure of adjoining territories, the infrastructure of all available technical facilities (those of primary refining, catalytic cracking, catalytic reforming, gradual coking), pipes and cables, as well as free refinery areas, which new units will be built.
In addition, the agreement envisages preparation of relevant maps and the final report. The data compiled on the results of work will be submitted to the respective designer company and used at the next phase of work on the topographical study of territories.
"SOCAR Fugro has great experience in this sphere and is a contractor in several projects of SOCAR, including those on Sangachal terminal and creating the Oil and Gas Processing and Petrochemical Complex (OGPC)," said the company.
Earlier, as part of the modernization of the Baku Oil Refinery named after Heydar Aliyev, SOCAR signed an agreement with Austrian Poerner, French Axens and the U.S. UOP Company
The OGPC project has multiple interfaces not only between process units, utilities, and offsite facilities, but also between the new gas processing and petrochemical facilities. The project costs about $17.1 billion plus interest for the loans to be received during construction.
The OGPC will be constructed roughly 60 kilometers from Baku. It will consist of three processing plants and a thermal power plant. The project will be completed in late 2022 - early 2023.
The OGPC construction project will improve product quality, enhance the export potential of the country, and help protect the environment of the capital.
The annual capacity of the OGPC refinery will be 8.5-9 million metric tons, the gas processing plant will be 12 billion cubic meters, and petrochemical production will exceed 1 million metric tons.
--
Aynur Karimova is AzerNews' staff journalist, follow her on Twitter: @Aynur_Karimova
Follow us on Twitter @AzerNewsAz
Related News