SOCAR reveals oil & gas output data from huge fields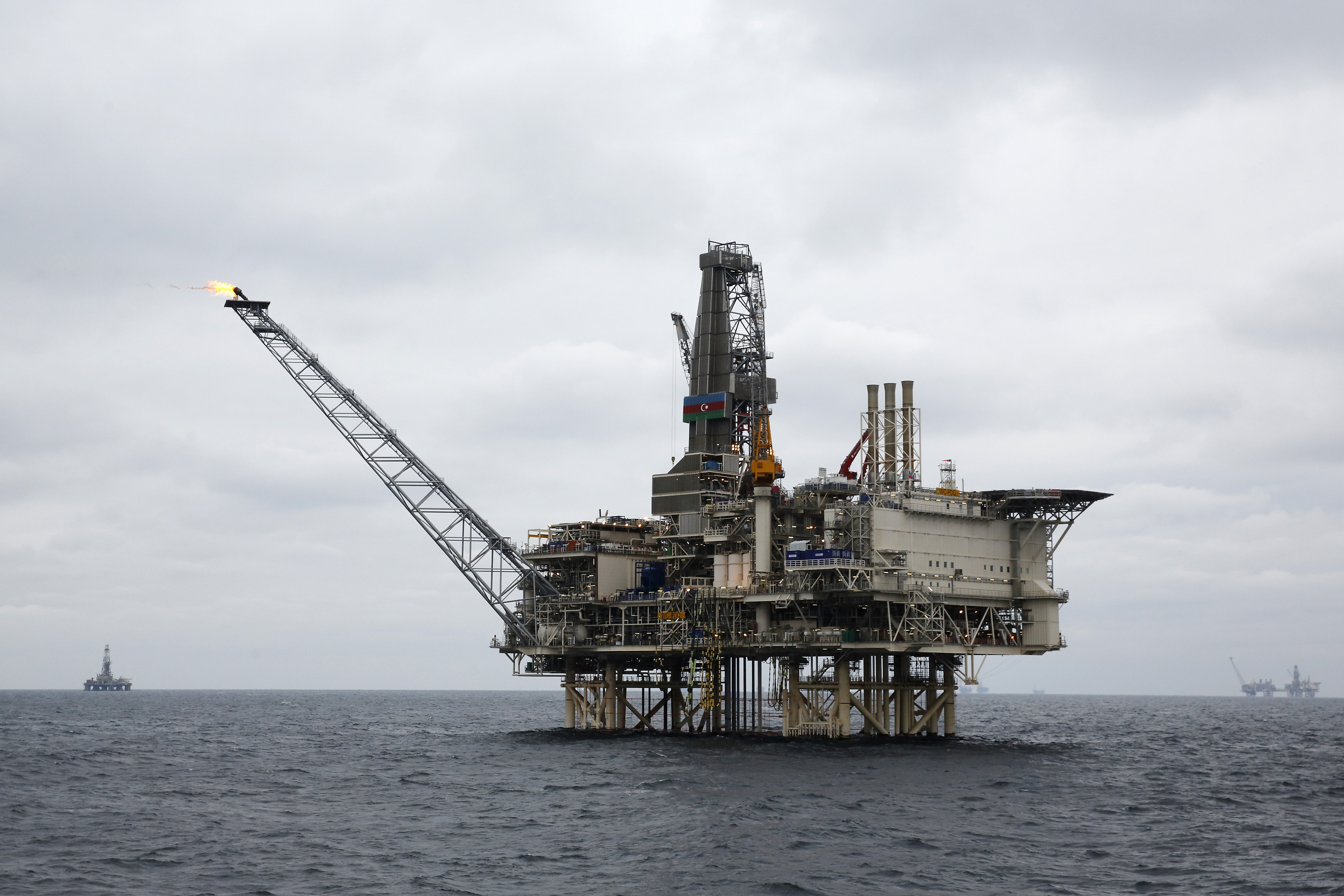 By Aynur Karimova
Azerbaijan's state energy company, SOCAR, has released details of the oil and gas production from the country's giant Azeri-Chirag-Gunashli (ACG) block of oil and gas fields, as well as the Shah Deniz gas field.
Khoshbakht Yusifzade, the first vice-president of SOCAR, said at the Caspian Technical Conference in Baku on November 4 that since November 1997, some 380 million tons of oil have been produced at the ACG field, including 209 million tons of Azerbaijani profitable oil.
"During the same period, the volume of associated gas produced at the ACG amounted to 114 billion cubic meters," he noted. "The daily production [from this block of fields] is 87,000 tons of oil and 33 million cubic meters of gas."
Yusifzade also claimed that 26 million tons of oil and 10 billion cubic meters of associated gas were produced at the ACG field during the first 10 months of 2015, while some 17 million tons of oil account for Azerbaijani profitable oil.
"The share of profitable oil for that period was 65 percent and will increase in the future," he added.
Out of 396 million tons of oil exported by Azerbaijan, 288 million tons of oil were delivered via the Baku-Tbilisi-Ceyhan pipeline, while the remainder was shipped through the Baku-Supsa and Baku-Novorossiysk pipelines and railway," Yusifzade stated.
"Furthermore, for 10 months of this year, Azerbaijan exported 28 million tons of oil, while 24 million tons were delivered via the BTC pipeline," he stressed.
Yusifzade believes that total production at the ACG field will amount to 385 million tons by the end of 2015, which accounts for only 17 percent of the reserves within the block.
The SOCAR official went on to add that 66 billion cubic meters of gas and 17 million tons of condensate had been produced at the Shah Deniz gas field since it was commissioned.
"To date, the total amount of Azerbaijani gas exported to Turkey is 36 billion cubic meters, and 4.8 billion cubic meters have been exported to Georgia," he said.
Azerbaijan's total proven oil reserves amount to some 2 billion tons, with gas at 2.6 trillion cubic meters and projected reserves reaching some 5.4 billion cubic meters of gas and 4.5 billion tons of oil.
Azerbaijan's state oil fund SOFAZ, an entity that accumulates and manages Azerbaijan's oil and gas revenues, has earned $116.01 billion from 2001 to November 1, 2015 through the development of the ACG block of fields, while the fund's profit from the Shah Deniz field from 2007 to November 1, 2015 amounted to $2.4 billion, SOFAZ reported on November 4.
The SPE Annual Caspian Technical Conference and Exhibition kicked off in Baku on November 4 and will last until November 6. More than 700 experts from international and national oil companies and representatives of government bodies, service companies, scientific institutions, and other organizations are attending the event.
Speaking at the event, BP regional vice-president Martyn Smith claimed BP intends to continue investing in Azerbaijan. He noted that the British company was very satisfied with its operations in Azerbaijan.
"The successful development of a number of fields gives us confidence that we will continue our long-term cooperation with Azerbaijan and SOCAR. We intend to continue investing in Azerbaijan," he remarked.
Smith also added that currently, competition in the country's oil and gas market had risen significantly.
"We need to improve our operational performance while reducing costs. To this end, we intend to apply a number of technical innovations for improvement of the production process, transportation of hydrocarbons, and upgrade of facilities, including in Azerbaijan," he stressed.
In his remarks, Joe Murphy, BP vice-president of Southern Gas Corridor, stated that BP intends to continue cooperation with SOCAR in the third stage of development of the Shah Deniz field.
He noted that the Shah Deniz field enjoys enormous potential for the implementation of this stage.
--
Aynur Karimova is AzerNews' staff journalist, follow her on Twitter: @Aynur_Karimova
Follow us on Twitter @AzerNewsAz