Rosneft, SOCAR eye prospects for co-op under future projects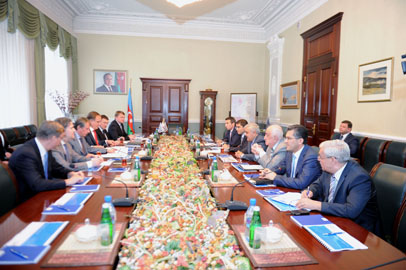 By Gulgiz Dadashova
Azerbaijan and Russia enjoy great prospects for a long-term cooperation in the oil sector, President of Russia's petroleum industry leader Rosneft Igor Sechin said at a meeting with President of Azerbaijan's energy giant SOCAR Rovnag Abdullayev.

Noting that SOCAR is one of the major companies in the region, Sechin voiced hope that the two companies will further expand the relations and bring it to higher level.

Abdullayev, in turn, said that this visit of the Rosneft delegation will make a major contribution to the future cooperation between the parties in the oil and gas sector.

Noting that both countries have huge experience in the oil and gas sector, Abdullayev said that this will ensure the fruitfulness of the cooperation.
The sides noted good opportunities for developing the bilateral energy cooperation, stressing the importance of defining new prospects to expand it.

The meeting also saw a presentation on the topic "SOCAR and Rosneft: prospects for cooperation." The presentation featured the activities of companies in Azerbaijan and Russia, as well as in third countries.

There were voiced large potential for increased cooperation in the framework of ongoing and planned projects and the need for joint efforts towards the realization of these opportunities.

SOCAR is involved in exploring oil and gas fields, producing, processing, and transporting oil, gas, and gas condensate, marketing petroleum and petrochemical products in the domestic and international markets, and supplying natural gas to industry and the public in Azerbaijan. Three production divisions, two oil refineries and one gas refinery, an oil tanker fleet, a deep water platform fabrication yard, two trusts, one institution, and 22 subdivisions are operating as corporate entities under SOCAR.

The company owns gas stations in Azerbaijan, Switzerland, Georgia and Ukraine. It has representative offices in Georgia, Turkey, Romania, Austria, Switzerland, Kazakhstan, Great Britain, Iran, Germany and Ukraine and trading companies in Switzerland, Singapore, Vietnam, Nigeria, and other countries.

Rosneft ranks among the world's top publicly traded oil and gas companies. The company is primarily engaged in exploration and production of hydrocarbons, production of petroleum products and petrochemicals, and marketing of outputs. The state holds 69.50 percent in the Company (through OJSC Rosneftegaz), while approximately 10 percent of shares are in free-float.