8 February 2013 14:48 (UTC+04:00)
1 446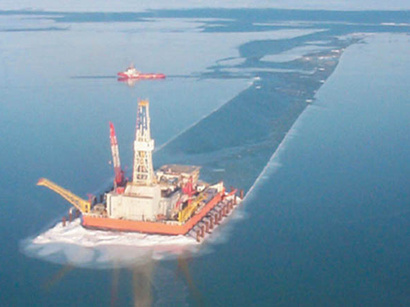 Kazakhstan has not refused its right to purchase ConocoPhiilips shares in the Kashagan field development project established by the country's law, national oil and gas company KazMunaiGas said.
"Shareholders of the North Caspian Operating Company (NCOC) refused to purchase ConocoPhillips shares in favor of the Indian ONGC Videsh Limited. However, this does not mean that Kazakhstan waived its pre-emptive right of purchase as provided by the country's legislation," a report from the national company said.
According to KazMunaiGas, currently the issue regarding who will receive the share is being considered by the interagency committee for development of oil and gas and energy industries.
Earlier, an informed source in oil and gas circles told Trend news agency that Kazakhstan will take a decision regarding the purchase of ConocoPhillips shares in Kashagan anytime up till June this year.
"It is premature to say that Kazakhstan has waived its right to repurchase shares. The country's government may decide by June this year," the source said.
The term for shareholders of North Caspian Operating Company consortium to make a decision regarding the purchase of ConocoPhillips share formally expired on January 25 this year.
Meanwhile, the limit of 60 days from notification of one of the project member's withdrawal does not apply to Kazakhstan which has a priority right to purchase the offered shares.
Kazakh Oil and Gas Minister Sauat Mynbayev said on January 22 that the inter-ministerial commission is still considering the purchase of ConocoPhillips share in the Kashagan project by Kazakhstan.
"This issue is being addressed by the inter-ministerial commission. We have a few months although this term is shorter for our partners," he said.
Meanwhile, ConocoPhillips reported that the company informed the Kazakh authorities and partners about its intention to sell its share (8.4 per cent) in the project to ONGC Videsh Limited. The transaction value is five billion dollars.
The transaction has to be approved by the government and the closing date of the transaction is expected in the first half of 2013.
Kashagan is being developed by the North Caspian Operating Company (NCOC) consortium, whose shareholders are Agip Caspian Sea BV (16.81 per cent), KMG Kashagan B.V. (16.81 per cent), ConocoPhillips North Caspian Ltd. (8.4 per cent), ExxonMobil Kazakhstan Inc. (16.81 per cent), Inpex North Caspian Sea Ltd. (7.56 per cent), Shell Kazakhstan Development BV (16.81 per cent) and Total EP Kazakhstan (16.81 per cent).
According to the PSA, the four oil-bearing structures Kashagan, Kalamkas, Aktoty and Kayran are included in the contract territory of the consortium's drilling work.
These structures consist of 11 offshore blocks which occupy an area of about 5600 square metres.
Recoverable oil reserves of Kashagan are estimated at 11 billion barrels by NCOC, whereas total geological raw material reserves of this oil-bearing structure stand at 35 billion barrels. It is believed that it is the largest oil field in the world after Prudo Bay field in Alaska.
The commencement of commercial production at Kashagan is expected by mid-2013. The first phase of the project involves the volume of production at around 370,000 barrels of oil per day with a possible increase to 450,000 barrels. The second phase envisages increasing production to 375,000 barrels per day within at least three years. Agip is responsible for implementation of offshore projects and Shell and Exxon for onshore projects and drilling.
Kazakhstan has high hopes for development of the field. According to EBRD, Kazakhstan's GDP growth in 2013 will amount to six per cent due to the introduction of a new phase of Kashagan.
Related News