SOCAR, Turkish Petroleum keen to expand cooperation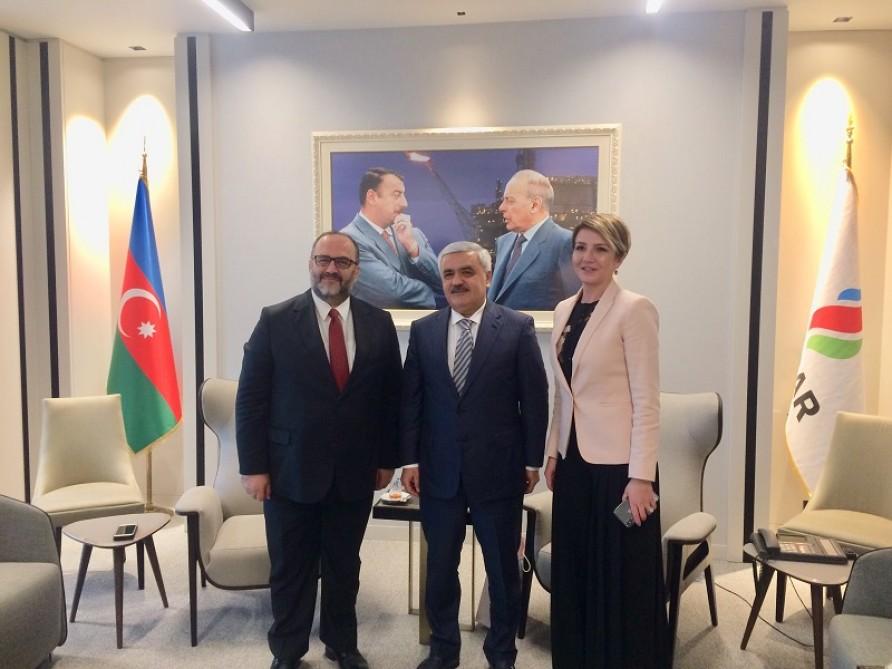 By Sara Israfilbayova
Azerbaijan's state oil company SOCAR and Turkish Petroleum company (Türkiye Petrolleri) have discussed the possibilities for the expansion of cooperation between the two companies.
SOCAR reported that the company's President Rovnag Abdullayev and Chairman of Board and Director General of Turkish Petroleum company Melih Han Bilgin held a meeting on December 25.
Abdullayev pointed out that Turkish Petroleum, which is one of the first foreign investors of Azerbaijan, has been cooperating with SOCAR for a long time in such projects as Azeri-Chirag-Gunashli (ACG), Shah Deniz and Baku-Tbilisi-Ceyhan (BTC).
Bilgin, in turn, stressed the existence of great prospects for the expansion of cooperation. He stressed that the participation of Turkish companies in the projects being implemented in Azerbaijan and the participation of Azerbaijani companies in Turkish projects play a very important role for the economies of both countries.
SOCAR has recently diversified its activity - the company implements big projects not only in Azerbaijan, but also in promising foreign markets, including Turkey.
Such big projects as the Trans Anatolian Natural Gas Pipeline (TANAP), STAR refinery, will be implemented in the coming months. TANAP, STAR refinery will be put into operation next year, which will have a positive impact on the income of Azerbaijan and Turkey.
TANAP project envisages transportation of gas from Azerbaijan's Shah Deniz field to the western borders of Turkey. The gas will be delivered to Turkey in 2018 and after completion of the Trans Adriatic Pipeline's construction natural gas will be delivered to Europe in early 2020.
The length of TANAP is 1,850 kilometers, with an initial capacity of 16 billion cubic meters of gas. Around six billion cubic meters of this gas is meant to be delivered to Turkey, with the remaining volume to be supplied to Europe.
SOCAR, being the largest foreign investor in Turkey, is the author of very important and large-scale projects in the energy industry. SOCAR entered the Turkish market with the acquisition of Petkim. The company's investments in Turkey will be a total of $19.5 billion once they are completed -Petlim, STAR Oil Refinery, Petkim Wind Power Plant (WPP) and TANAP projects.
SOCAR includes such production associations as Azneft (the enterprises producing oil and gas onshore and offshore), Azerikimya (the chemical enterprises) and Azerigas (distributor of gas produced in the country), as well as oil and gas processing plants, service companies, and the facilities involved in geophysical and drilling operations.
Turkish Petroleum was founded in 1954 with the responsibility of being involved in hydrocarbon exploration, drilling, production, refinery and marketing activities as Turkey's national company.
Being an important actor of the national economy, TP achieved many "firsts" of the Turkish oil industry in the past. The Company has given rise to 17 major companies, including PETKİM, TÜPRAŞ and POAŞ to Turkey.
Today, Turkish Petroleum is a national oil company involved in merely upstream (exploration, drilling, well completion and production) sector.
---
Follow us on Twitter @AzerNewsAz