Azerbaijani society consolidated around president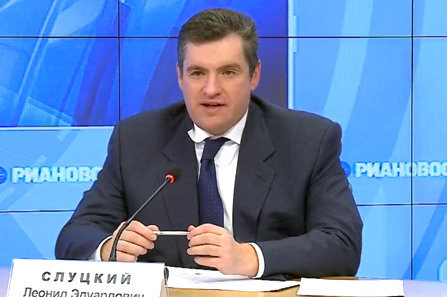 The Azerbaijani society has been consolidated around the president and his policy, Leonid Slutsky, the head of the State Duma Committee on CIS Affairs, Eurasian Integration and Ties with Compatriots, said at a press-conference Oct. 27.
"All significant components of the state programs aimed at improving the population's welfare, combating poverty and achieving the country's energy independence is a part of a large presidential program," he said.
"The Institute for Democracy, which is monitoring the election, has been established in the CIS Interparliamentary Assembly," he said. "It is currently on a long-term mission in Azerbaijan. We can make conclusions about the progress compared to the presidential election and parliamentary election."
"The monitoring of all election showed the improvement of the entire electoral practice," he said.
"I can not anticipate the election but we have already reviewed the conclusions of the long-term mission," he said. "I think there will be a very big turnout."
The parliamentary election will be held in Azerbaijan November 1.
Slutsky also regretted that the election will be held amid a complicated international situation over Azerbaijan.
"The strange situation occurred in the OSCE/ODIHR," he said. "The mission's refusal from participating in the election seems strange."
---
Follow us on Twitter @AzerNewsAz