11 August 2015 14:00 (UTC+04:00)
836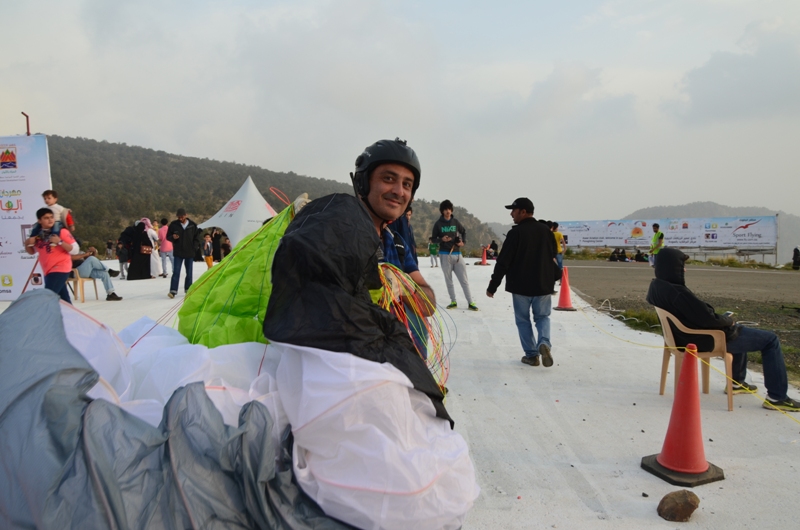 By Amina Nazarli
The desire to fly and feel oneself free entices people to do many feats. Many want to enjoy the heady feeling of a free fall, even for a second, to feel as if they were a hovering bird.
Air sports, like paragliding, are a great way to feel this adrenaline rush.
Paraglider Jamal Kashkay is one of those rare fellows in Azerbaijan who chose this exciting sport as a means represent his country throughout the world.

This year, Azerbaijani paragliders for the first time received national pilot licenses and were admitted to international competitions under the Azerbaijani flag.
Jamal participated at the International Paragliding Accuracy Landing Competition alongside the world's best athletes, which took place in Saudi Arabia between July 31 and August 2.
The national paraglider passed the selection process and performed successfully in the competition. Although Jamal was not able to rank among the winners, this occasion provided motivation for the country as the first attempt at a competition by the Fédération Aéronautique International.
The venue for the event was chosen accurately – an alpine area in a beautiful part of Saudi Arabia highlighted with nature reserves, cultural, and historical attractions and activities.
The paragliders leaped from height of nearly 3,000 meters to reach landing zone at a distance of about 3 km in the valley. The total flight length to the landing zone was more than 9 km.
Even the bad weather on the final day did not spoil the mood of the participants. The representatives of the royal family attended the closing and award ceremony despite the storm.
In recent years parachuting is gaining popularity in Azerbaijan. The Federation of Air and Extreme Sports of Azerbaijan (FAIREX) was established in the 2005.
At the Balakan Aviation Centre, located in Balakan region, adrenaline junkies can go skydiving. The center has been in operation for some time and has been a venue for many international competitions, involving athletes from Belarus, Georgia, Tajikistan, and Russia.
Even the fairer sex indulges in this extreme sport. The country can proudly echo the name of the first Azerbaijan licensed paraglider, Natavan Mansurova, who early this summer received a pilot license of the FAIREX.
In her short career, Natavan has already managed to take part at a competition in Georgia.
--
Amina Nazarli is AzerNews' staff journalist, follow her on Twitter: @amina_nazarli

Follow us on Twitter @AzerNewsAz
Category News