3 June 2015 12:00 (UTC+04:00)
7 381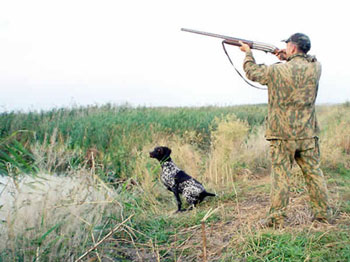 By Amina Nazarli
With the arrival of summer, hunters have been eagerly awaiting the official opening of the hunting season. For many, hunting remains a very enjoyable experience - both challenging and exhilarating.
Hunting as a sport requires the development of many skills.
Power, satisfaction, defense, environmental control, oneness with nature, and food are some of the reasons so many people love to hunt.
Azerbaijan announced the opening of its hunting season 2015-2016 on May 30, the Ecology and Natural Resources Ministry said on June 1.
The ministry set the following period of hunting for wild animals and birds:
The period of hunting Dagestan goats will extend from May 20 to October 19, 2015. Only one goat per group of hunters - no less than three people, can be hunted in the country's Zagatala, Shaki, Gakh, Guba, Ismayilli and Oguz regions.
Hunting boars will be permissible from September 19 to December 19, 2015. One boar for no less than three hunters. The hunting territories are: Lankaran, Astara, Lerik, Gakh, Jalilabad, Zagatala, Imishli, Guba, Khachmaz, Neftchala, Yardimli, Shaki and Ismayilli.
Hare hunting will allowed in the Davachi, Kurdamir, Salyan, Neftchala, Jalilabad, Bilasuvar, Yevlakh, Lankaran, Zagatala, Agstafa, Gazakh, Zardab, Masalli, Guba, Khachmaz, Imishli, Sabirabad and Saatli regions. Each hunter is allowed to catch only two hares from the period running from November 14, 2015 to January 9, 2016.
Some six lapwings per hunter have been allowed by the ministry in between September 12 and November 7, 2015.

Only one goose (white eyebrows and a red breast goose) can be hunted per person from October 10, 2015 to February 20, 2016.
Duck hunting (white eye black duck, blue bill and marbled teal) will be hunted from October 10, 2015 to February 20, 2016. Only four ducks per person will be allowed.
The period for hunting on coot has been set from October 10, 2015 to February 20, 2016. A total of six coots is allowed for each hunter.
Hunting fees are as follow: (per unit)
Dagestan goat - 24 manats 75 copecks ($23.77)
Boar -16 manats 50 copecks ($16.16)
Hare - 2 manats 20 copecks ($1.90)
Lapwing 31 copecks (21 cent)
Duck - 99 copecks ($0.95)
Coot - 31 copecks (21 cent)
Goose - 2 manats 53 copecks ($2.85)
Those who want to acquire a hunting permit should apply to the Baku Ecology and Natural Resources Department and the Ecology and Natural Resources Departments.
Hunting is prohibited in the Agdam, Khanlar, Goranboy, Dashkasan, Gadabay and Ter Ter regions as well as the Caspian Sea islands, green zones, protected areas, near the cities and resort areas of up to 1 km.
--
Amina Nazarli is AzerNews' staff journalist, follow her on Twitter: @amina_nazarli
Follow us on Twitter @AzerNewsAz
Category News