25 May 2015 17:40 (UTC+04:00)
2 288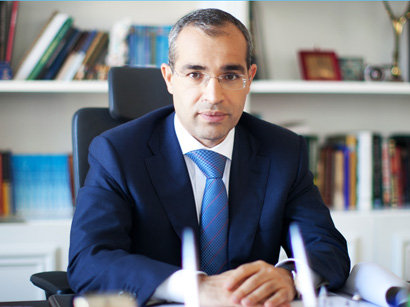 By Laman Sadigova
Azerbaijan has a much potential when it comes to private sector development in the education system, said Mikayil Jabbarov, Azerbaijan's minister of education on Monday.
He said that one percent of the total secondary school enrollment in the country is currently studying in the private sector. The minister believes that it is wrong to consider education as an issue, the implementation of which is fully attributable to the government. The private sector development will mean that new additional resources will gravitate toward the education system and this will lead to better results.
The format and scope of cooperation with the Asian Development Bank (ADB) in connection with the transition to a 12-year education system in Azerbaijan will be determined in the future during discussions, he said.
The minister believes by preparing highly qualified specialists and making education more accessible to the entire population, the Azerbaijani government is committed to bringing the country's education system in line with international standards.
Jabbarov also noted that in 2013 a presidential decree approved the "National Strategy for the Development of Education", which also reflected the issue of the transition to a 12-year education system.
"Sustainability and progress both depend on the quality of our human capital. Each country has human capital which can help increase success in any field. The main way to develop such potential is of course education. This system is based on values and the transfer of knowledge and skills from generation to generation. Azerbaijan has changed from one socio-economic system to another and it also requires a new approach to education," the minister said.
A 12-year-educational system is a transitional tool for today's students which will enable them to better integrate the labor market, Jabbarov also stressed.
---
Follow Laman Sadigova on Twitter: @s_laman93
Follow us on Twitter @AzerNewsAz
Related News