9 April 2015 13:35 (UTC+04:00)
2 858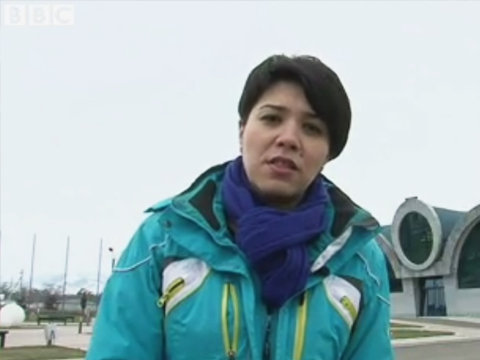 By Mushvig Mehdiyev
A BBC reporter's visit to the occupied Azerbaijani lands was permitted, the Azerbaijani Foreign Ministry announced.
"BBC World News Service administration informed us through a letter about its reporter's visit scheduled to the occupied regions," spokesman for the Foreign Ministry, Hikmet Hajiyev said.
BBC TV channel's correspondent, Rayhan Demytrie has paid a visit to Nagorno-Karabakh and made a video reportage in view of showing how people are getting on in the region -- their struggles, their hopes.
Hajiyev said, BBC administration asked for its correspondent, Demytrie to be allowed in her professional capacity.
"Although some points in the prepared video reportage are controversial, we respect the journalist's professional activity based on Azerbaijan's law and freedom of press principles," he noted.
But Yerevan was not as understanding as Baku, as the Armenian authorities rejected the journalist's appeal to conduct a reportage about the Yerevan-backed separatist regime in Azerbaijan's occupied lands, Hajiyev added.
Hajiyev explained that Yerevan was essentially worry that the journalist would come to expose Armenia's crimes - atrocities against Azerbaijan's cultural heritage - and thus dispel whatever propaganda the country has tried to sell the world for the past decades.
In her documentary, Demytrie rather clearly expose Armenia's armed occupation of Azerbaijan territory - she interviewed several people on the ground and discussed the issue of legitimacy and sovereignty of the so-called "Nagorno-Karabakh republic".
Visiting the occupied lands without Azerbaijan's official permit is considered a violation of the country's law and a clear disrespect of its sovereignty and territorial integrity. The Foreign Ministry developed a special black list for all those who have failed to comply with Baku's requirements and made illegal visits to Nagrono-Karabakh.
As a result of Armenia's armed invasion into Azerbaijan's legal territory, the two neighboring countries have remained locked in a bitter territorial dispute over the Nagorno-Karabakh region, which Armenia-backed separatists seized from Azerbaijan in a bloody war in the early 1990s.
Despite Baku's best efforts, peace in the occupied lands remains a mirage in the distance as Armenia refuses to comply with international law.
Baku proposed a Great Peace Agreement project to work jointly on the conflict's settlement. Yerevan refused of course to seize such peace opportunity, preferring instead to support the occupation.
- - -
Follow Mushvig Mehdiyev on Twitter: @Mushviggo
Follow us on Twitter: @Azernews
Related News