Khojaly victims commemorated in Zaporozhye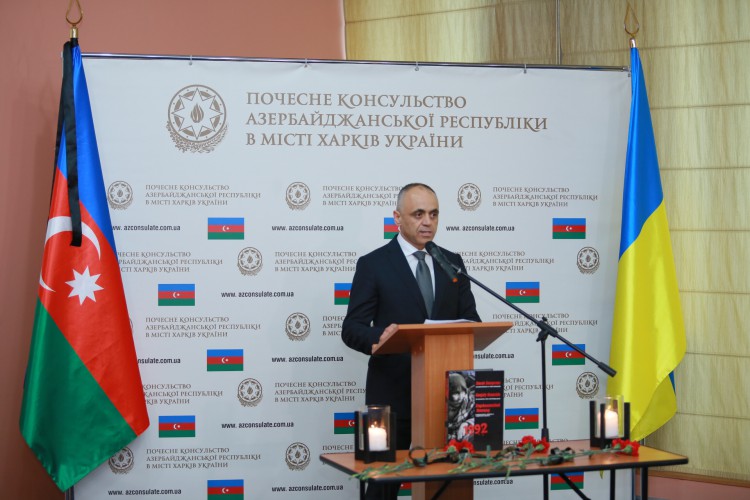 A meeting-requiem devoted to memory of the victims of the Khojaly tragedy took place in Zaporozhye, Ukraine.
This is the second action organized by honorable consulate of Azerbaijan in the city of Kharkov,AzerTag state news agency reported. Earlier, such an event was held in Chernigov.

On the initiative and with assistance of Afgan Salmanovv, Honorable Consul of Azerbaijan in Kharkov, the residents of six largest regional centers of Ukraine were informed about the bloodiest page in the Armenian-Azerbaijani, Nagorno-Karabakh conflict, about the aggression of Armenia against Azerbaijan.

In Zaporozhye which is the cradle of the Ukrainian Cossacks, the action was attended by officials of the Oblast Administration, representatives of regional and Mayoral councils, enterprises, higher educational institutions and students who came to learn the truth about the Khojaly genocide.

Speaking to the participants Salmanov noted that today the Azerbaijani people demand only justice.
"The world community is obliged to know the truth about this tragedy. It is necessary not only for Azerbaijanis, it is necessary for the whole world not to allow similar crimes against humanity in the future!" he stressed.
In 1992, the town of Khojaly came under intense fire from the towns of Khankendi and Askeran already occupied by the Armenian armed forces. 613 civilians mostly women and children were killed in the massacre, and a total of 1,000 people were disabled. Eight families were exterminated, 25 children lost both parents, and 130 children lost one parent.
Moreover, 1,275 innocent people were taken hostage, the fate of 150 of them remains unknown. Many civilians were shot at close range, scalped or burned alive.
- - -
Follow us on Twitter @AzerNewsAz