24 November 2014 12:45 (UTC+04:00)
1 414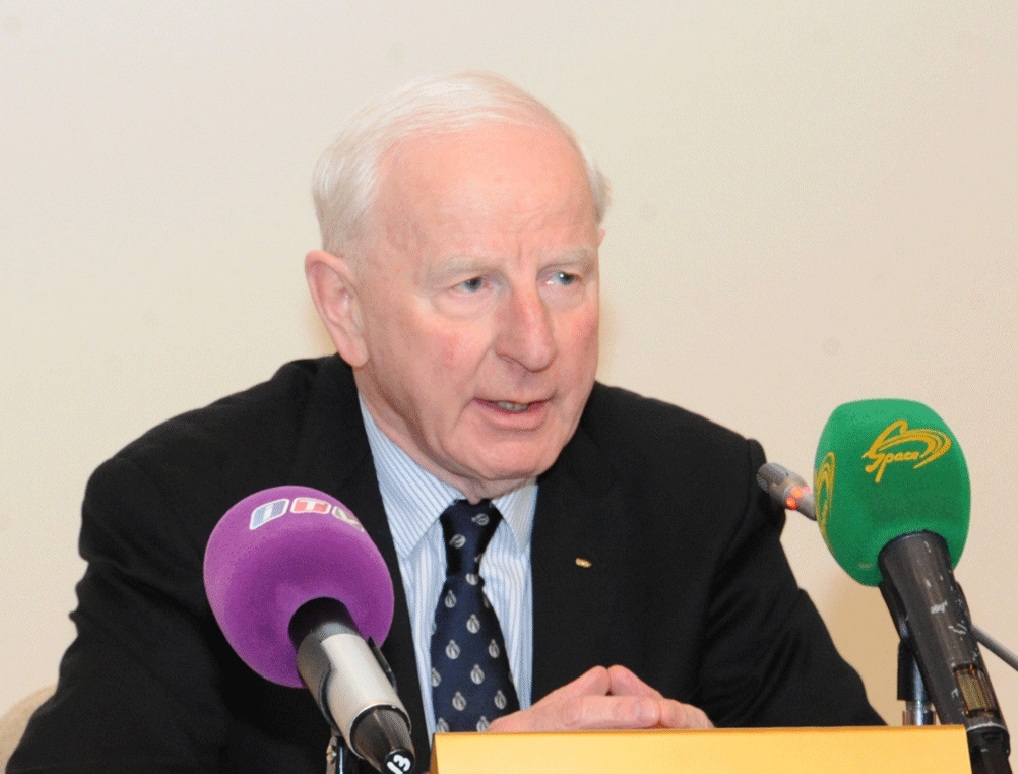 By Nigar Orujova
The General Assembly of the European Olympic Committee (EOC) was held successfully in Baku, Azerbaijan setting an exemplary records for other countries , EOC President Patrick Hickey said at a press conference.
The 43rd General Assembly of the EOC was held in Baku on November 21-22. Azerbaijan's President Ilham Aliyev and his spouse Mehriban Aliyeva attended the official opening of the event.
The General Assembly was also attended by delegates from European national Olympic committees and senior managers of international sports organizations.
During the event, several reports were read out on a number of topics, including reports on the progress of preparations for 2016 Summer Olympic Games, 2018 Winter Olympic Games and the European Youth Olympic Festival.

Hickey also noted on behalf of the European Olympic Committee, that Baku was the best partner for the launch of the first inaugural European Games.

"They're doing a fantastic job in the preparations, and it will leave a tremendous legacy in this city for the future sports events, not only in terms of infrastructure, which is amazing, as well as the legacy that you will have on your citizens," Hickey stressed.

He went on to add that Azerbaijan has so many volunteers and so many Azerbaijani citizens are working with experts and professionals that have joined the team mainly from the London Olympic Games.

Hickey said that it will leave a very strong legacy, whereby Baku will be prepared in the future to hold similar sports games.
"We love to see local people being involved and getting expertise that they might not normally have," Hickey said.

He went on to say that the upcoming games will be tremendous.

President of the International Olympic Committee Thomas Bach has already committed to be present here for the opening ceremony, and the president of the international world association of Olympic Committees Sheikh Ahmad Al-Sabah from Kuwait, he will be here with his team, Hickey said.

"To remind you, we are the only continent without our own games," Hickey said. "So there is a great interest and a great goodwill attitude to Europe, to get our games up and running, and we are already receiving great help from our colleagues in Asia, Africa and Pan-America."
Hickey went on to say that, EOC has a presentation from BEGOC, the organizing committee for the European games, which is astonishing.

"We are extremely happy and pleased with the situation," Hickey said. "Bear in mind that most Olympic cities have a 7-year time to prepare for the games, and what BEGOC doing is extraordinary. It's all been arranged in only two years, and the progress they're making will make it truly amazing."
Speaking about the next European games in 2019, Hickey said the negotiations are held with six cities in Europe.

"If you remember, when we conceived the idea of these European games, it was six years ago, at the general assembly in Valencia, Spain. We said we would be extremely innovative in our thinking of these games, and that we would not enter process it like the formats of the Olympic Games, we would have disciplines, which are non-olympic, and we are following all that," Hickey said.

"Our attitude is that we will tailor-make the games to the city that is most interested," he said. "We will announce the city before May 2015."
First Vice-President of the National Olympic Committee Chingiz Huseynzade also noted the success of the Assembly.
He noted that the country faced some difficulties because of lack of experience in conducting such an event like the first European Games. "That's why we brought professionals to gain experience. Now comes the final stage of preparation for the first European games," he stressed.
Baku 2015 is the first European Games, an exciting and innovative multi-sport event for the continent, which will take place on June 12-28, 2015.

There will be 20 sports at Baku 2015: 16 Olympic sports and four non-Olympic sports. More than 6,000 athletes from across Europe will be representing their nations over 17 days of competition.

Eleven of the sports will offer qualification opportunities for the Rio 2016 Olympic Games. Those sports include Archery, Athletics, Boxing, Cycling, Shooting, Swimming, Table Tennis, Taekwondo, Triathlon, Wrestling and Volleyball.

Baku was awarded the Games by the European Olympic Committees (EOC) in December 2012. The Baku European Games Operations Committee (BEGOC) is organizing and running the Games in co-operation with the EOC.
Related News