U.S. urges Baku, Yerevan to take constructive steps for Nagorno-Karabakh conflict resolution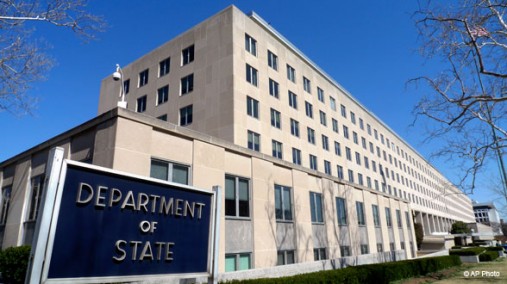 By Sara Rajabova
The United States has called on Nagorno-Karabakh conflict sides to continue dialogue for settling the long-lasting problem.
Jen Psaki, the spokesperson for the U.S. Department of State, said the U.S. continues to encourage the sides to take constructive steps to resolve the Nagorno-Karabakh conflict, the Department of State reported.
"The sides can build on the momentum generated during the presidents' three meetings this year," Psaki said.
Last meeting between Azerbaijani President Ilham Aliyev and Armenian President Serzh Sargsyan took place on October 27 with the participation of the OSCE Minsk Group co-chairmen to discuss the settlement process of Nagorno-Karabakh conflict. The two presidents held a face to face meeting, which followed by another joint meeting with the OSCE Minsk Group co-chairs. Afterwards, a joint meeting was held attended by French President Francois Hollande, President Aliyev, President Sargsyan and the OSCE Minsk Group co-chairmen.
This was the third meeting of Azerbaijani and Armenian presidents this year after the Sochi and Wales meetings.
Psaki further said the sides must adopt the measures that build trust and confidence and certainly that can be done through dialogue.
"U.S. Secretary of State John Kerry also had meetings with Azerbaijani and Armenian Presidents Aliyev and Sargsyan in Wales. And they can also enter into a genuine negotiation process to advance a peaceful and lasting settlement to the conflict. So certainly, we would encourage that through dialogue," Psaki said.
For over two decades, Azerbaijan and Armenia have been locked in conflict which emerged over Armenia's territorial claims against its South Caucasus neighbor.
Since a war in the early 1990s, Armenian armed forces have occupied 20 percent of Azerbaijan's territory, including Nagorno-Karabakh and seven surrounding regions. A fragile ceasefire has been in place since 1994, but long-standing efforts by U.S., Russian and French mediators have been largely fruitless so far.
Armenia has not yet implemented the U.N. Security Council's four resolutions on its pullout from the neighboring country's territories.