24 April 2014 12:04 (UTC+04:00)
1 687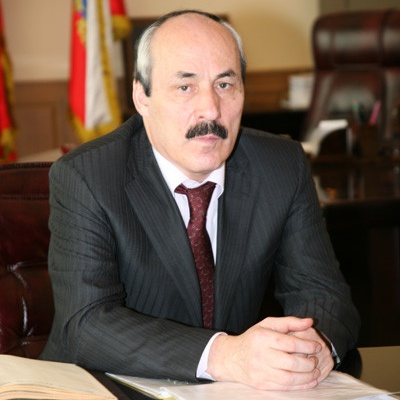 By Sara Rajabova
Head of Dagestan Ramazan Abdulatipov met an Azerbaijani delegation participating in the All-Russian Cultural-Investment Forum on the culture and economics of regional policy.
The Forum opened in Makhachkala, AzerTag state news agency reported.
The delegation is composed of Culture and Tourism Minister of Azerbaijan Abulfas Garayev, MP Rauf Aliyev, and Rector of the Uzeyir Hajibeyli Baku Music Academy Farhad Badalbeyli.
Abdulatipov noted that the Forum is organized as part of the annual Moscow forum of culture called "Culture as the Strategic Resource of Russia in the 21st Century", the international symposium "Higher Educational Institutions of Culture and Art in the World Educational Space", and the Dagestan Economic Forum.
The Head of the Republic highlighted the successful development of Azerbaijan, expressing regret that no joint economic and cultural projects had been implemented with the help of Dagestan so far.
"In the early 20th century, our relations with Azerbaijan were much better. You have a rich culture and beautiful people. We will be developing our relations," Abdulatipov said.
He said a Dagestani official delegation, led by chairman of the government Abdusamad Gamidov, recently visited Baku, and the working meeting on Azerbaijan`s participation in the events marking the 2000th anniversary of the oldest city of Russia took place in Derbent a few days later.
Major discussions revolved around reconstruction of the Heydar Aliyev Street and choosing a location for the construction of the Olympic complex.
"Dozens of Azerbaijani projects must be realized in Dagestan and the same number of Dagestani ones in Azerbaijan. Dagestan and Azerbaijan's people share a close culture and traditions," Abdulatipov underlined.
For his part, Minister Garayev read out a message from President Ilham Aliyev, in which he said Azerbaijan and Dagestan were the republics which should always be together, since they shared common goals and development tasks of the Caspian region.
"We are linked with history and culture. You are absolutely right, our ties must be stronger. The potential exists. We want to support our national culture. Yesterday, our delegation visited Derbent, the Narin Kala fortress. This is a historical site uniting two of our people," Abulfas Garayev underlined.
The minister invited the Head of Dagestan to the annual forum on intercultural dialogue, which, he underlined, is supported by five international organizations.
Badalbayli, for his part, said many popular songs in Dagestani languages were recorded and given as CDs to schools.
The Head of Dagestan also said the Ministry of Culture of the Republic has prepared CDs with classical music and masterpieces by Dagestani composers.
The Forum was organized by government of Dagestan and Moscow State University of Culture and Arts at the Ministry of Culture of the Russian Federation.
Related News