Azerbaijani, Turkish diasporas hold rally in Stockholm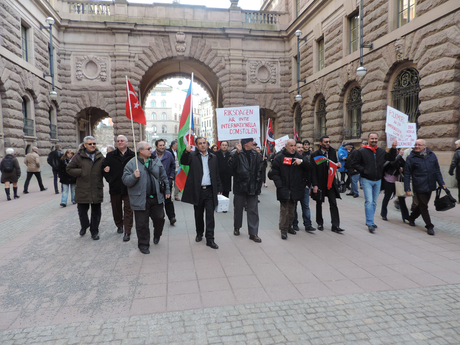 Members of the Azerbaijani and Turkish diaspora organizations have held a protest rally against recognition of the Armenian genocide in front of the Swedish Parliament House (Riksdag),AzerTag state news agency reported.
The demonstrators stated that recognition of the Armenian genocide by the Swedish Parliament in 2011 was a political step aimed at exerting influence on Turkey and confusing the international community.
The rally participants distributed among local residents brochures on the realities of the so-called Armenian genocide.
The event participants issued an appeal to the Riksdag, and gave more than 350 letters to members of the Swedish parliament.
Armenia and the Armenian lobby claim that the predecessor of modern Turkey, the Ottoman Empire allegedly carried out "genocide" against the Armenians living in Anadolu in 1915. Armenians have achieved recognition of the "genocide" by the parliaments of several countries.