7 March 2014 18:16 (UTC+04:00)
1 618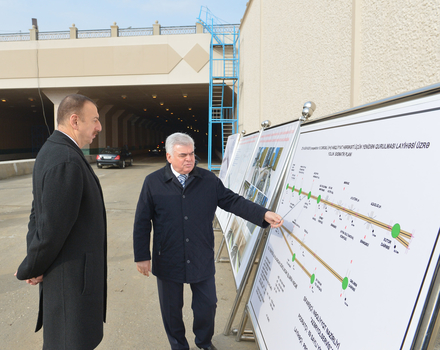 By Nigar Orujova
Azerbaijani President Ilham Aliyev inspected progress of construction of several road junctions in Baku on March 7.
The Head of State first inspected construction of the overpass located at the crossroads of the Ziya Bunyadov Avenue and Muzaffar Narimanov Street.
Transport Minister Ziya Mammadov briefed President Aliyev about the progress of reconstruction.
The project will see construction of the 10km-long road with 10 lanes. Under the project, five road junctions, four pedestrian overpasses and two underpasses are under construction. The tunnel to be constructed will be 780 meters in length. The 6-lane road is 27 meters in breadth.
President Aliyev then proceeded to the crossroads of the Ziya Bunyadov Avenue and Ahmad Rajabli Street where he examined construction of the road junction.
The total length of the junction is 600 meters. The 325m bridge has six lanes in two directions. The pedestrian overpass is being built here too.
Following, the president has visited the construction site for the road junction located at the Khutor circle, the crossroads of the Ziya Bunyadov Avenue and Abdulvahab Salamzade, Ali Mustafayev and Huseynbala Aliyev streets.
President Aliyev was briefed about specifications of the junction. The project envisages construction of three tunnels, a bridge and two pedestrian underpasses. The length of the bridge is 630 meters.
The president gave his respective instructions concerning the construction work.
Related News