29 January 2014 14:50 (UTC+04:00)
1 111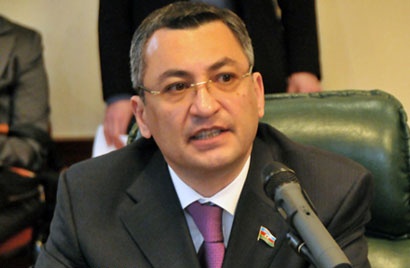 By Jamila Babayeva
Dialog between Azerbaijani and Armenian communities can help resolve the Nagorno-Karabakh conflict, member of the Azerbaijani delegation, MP Rovshan Rzayev said at the winter session of the Parliamentary Assembly of the Council of Europe.
Rzayev in his speech drew the Assembly's attention to negotiations on the settlement of the Nagorno-Karabakh conflict.
"During the foundation of the OSCE Minsk Group it was agreed that the parties are Azerbaijan and Armenia, but at the same time the negotiations between the Azerbaijani and Armenian communities of Nagorno-Karabakh were provided. I am sure that these negotiations will contribute to the peaceful resolution of the conflict. We will continue our efforts in this direction," he said.
The MP noted that in the early 1990s, Azerbaijan offered to start such negotiations for the resolution of the conflict.
"At first, it may seem to be a difficult process. But I am fully sure that if we sit down at the negotiating table and start the dialogue, we can achieve much and thus we will make a contribution to the process of negotiations. I ask colleagues to support our desire to establish a dialogue," Rzayev said.
In his speech, the MP also touched on the tense situation on the frontline.
"Three days ago on the frontline was an active firefight. If there is no assistance in this issue, it will be possible to face the terrible consequences in the future. Therefore, I appeal to you and hope that you will be able to help us in this issue," he noted.
Armenia constantly violates the ceasefire on the contact line of Azerbaijani and Armenian troops, and these violations have intensified recently, reaching more than 200 times a day.
Armenia occupied over 20 percent of Azerbaijan's internationally recognized territory, including Nagorno-Karabakh and seven adjacent regions, after laying territorial claims against its South Caucasus neighbor that caused a brutal war in the early 1990s.
The UN Security Council's four resolutions on Armenian withdrawal have not been enforced to this day.
Peace talks, mediated by Russia, France and the US and the OSCE Minsk Group are underway on the basis of a peaceful outline -called Madrid Principle -proposed by the Minsk Group co-chairs. The negotiations have been largely fruitless so far.
Related News