16 January 2014 14:45 (UTC+04:00)
1 740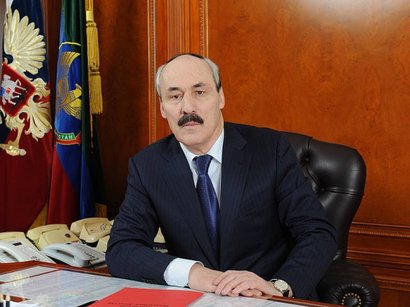 By Nigar Orujova
Dagestan President Ramazan Abdulatipov said in a letter to People's Assembly of his country that holding mutual cooperation with the historic neighbor Azerbaijan is of great importance for Dagestan.
He added in the letter that, for the time being, the economic relations between two sides are at a minimal level.
"In late 2013, we met with Azerbaijani President Ilham Aliyev and other high-ranking officials. We agreed to intensify relations between Azerbaijan and Dagestan. We consider Azerbaijan as an important player of the region which enjoys mutually beneficial relations with Russia," Abdulatipov said.
He said Dagestan can learn from its neighbors on many issues like economic reformation and management because they enjoy considerable experiences in different fields.
"The development of traditionally good neighborhood and brotherly relations with Azerbaijan is important for us, both economically and culturally. Dagestanis-Azerbaijani citizens are permitted to live in Azerbaijan. Meanwhile, we allow Azerbaijani-Russian citizens to reside in Dagestan to create a favorable climate for cultural contacts," Abdulatipov said.
Abdulatipov visited Azerbaijan in December 2013.
Azerbaijan and Russia have an extensive legal framework with more than 30 economic documents already signed. Trade turnover between the two sides reached $3.4 billion in 2012.
Related News