Baku to extend metro subways to facilitate transportation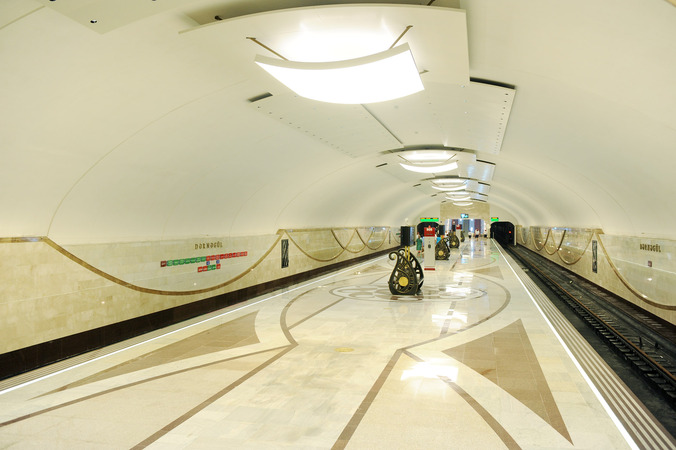 By Jamila Babayeva
Azerbaijan plans to open new subways in the capital Baku in 2014 to tackle the transport problems of the big city.
The decision was made after growing traffic jams turned into an urban challenge for Azerbaijan's government and nation.
Baku Metro lately put pressure on the government to adopt a 20-year-old program for developing the metro stations across the capital.
The 46-year old Baku Metro operates 23 stations in two lines - Red and Green with the total length of 34.6 kilometers. Under the new program, the number of subway lines is planned to increase from two to five, its length up to 119 kilometers, and the number of stations up to 76 by 2030.
Over the next five years, Baku Metro plans to launch 11 new stations. Eight new stations will be operational in the next three years and then three more stations will be commissioned. Five stations will become operational as a Violet Line, while the remaining six will continue the Green Line.
Baku Metro completed the construction work on the Avtovagzal and Memar Ajami-2 stations in 2013.
Baku Metro also plans to commission the project on division of the Red and Green lines on the "28 May" subway station, where they two cross, soon.
The project, which took two years to complete, was developed based on the interests of passengers.
"The project can be regarded as a successful job done in 2013," Baku Metro told.
The development program of Baku Metro envisages the construction of a section on the Green Line to extend the Hazi Aslanov-2 subway station to Old Guneshli and New Guneshli residential areas.
At the same time, three stations will be built between Khatai and Hazi Aslanov-2 stations for optimal movement in the Green line. Two new stations will also be commissioned on the Nobel Avenue (near Luna Park and the car factory).
The separation of lines and transitional stations will facilitate tackling the current problems with passenger transportation in the capital, and will provide for the free transport of passengers to the center of Baku from the suburbs.
Baku Metro also plans to construct one station in Jalil Mammadguluzadeh Street (near the Heydar Aliyev Sports Complex) and another near Fizuli Street. Purchasing land is the main problem here, since this is a central street.
Preparatory work over the construction of a new station on Jeyhun Salimov Street was completed in 2013, and a complex has been installed to lay down a tunnel.
Baku Metro also plans to apply innovations in its stations by using modern control, fire extinguishing, and prevention systems. The platforms will be provided with security doors. Railway platforms of new stations will be designed for seven subway carriages with the length of 140 meters. The number of carriages will be increased after opening the new stations.
Overland subway and pilotless movement of trains are part of the innovations that will be offered to Baku citizens in the near future.