First sturgeon farm to open in Azerbaijan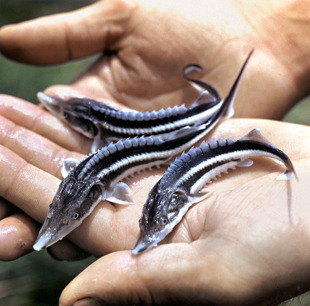 By Nigar Orujova
The Zoology Institute of the Azerbaijan National Academy of Sciences (ANAS) announced a proposal to create an experimental farm for the cultivation of sturgeon fish at the country's Mingachevir laboratory.
According to director of the institute Ilham Alekperov, this project is the first one and, if successful, will be applied to other regions as well.
There are about 141 fish species registered in the resource-rich Caspian Sea, shared by Azerbaijan, Kazakhstan, Russia, Turkmenistan, and Iran.
The main fishery in the region, the sturgeon fishery, is operated only with the Caspian's resources.
Some 90 percent of the popular black and red caviar sold all over the world comes from the Caspian Sea.
Sturgeon may be artificially bred in the Caspian Sea and the Kura River as part of this project, Alekperov said.
These kinds of farms already exist in other Caspian countries, he said. There are 21 such farms in Russia, and they grow up to 2,000 tons of fish annually.
The institute conducts researches to expand stocks of sturgeon fish breeds, and develop technologies for an accelerated production of commodity sturgeons in artificial conditions.
Scientists plan to receive 2-3 kilograms of sturgeons from 10-gram young Caspian sturgeon fish over a period of two years, which will allow fish breeding farms to produce 15-20 tons of sturgeon fish annually.
According to the Iranian international scientific research institute, sturgeon fish stock which is only found in the Caspian Sea has shrunk by 25-30 percent, and if the situation does not change, sturgeons will become extinct in 2021.
In 2010, the presidents of the Caspian littoral states inked an agreement to stop catching sturgeon for five years. Sturgeon fishing in the sea was allowed only for scientific research purposes in 2012.