Azerbaijan to spend over $3.7 bln on defense in 2014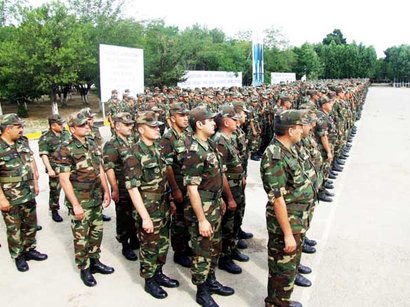 By Aynur Jafarova
Azerbaijan will allocate 2.95 billion manats (around $3.76 billion) for defense expenditure from the state budget in 2014, the Finance Ministry said on October 7.
The figure makes up 14.7 percent of the total amount of the budget spending.
According to the ministry, the funds are allocated for strengthening the national security, defense capability and logistics.
The defense expenditure in 2014 is predicted to be increased by 8.7 percent compared to the forecasts for 2013.
The state budget spending for 2014 is projected at the level of 20.1 billion manats, which is 15.2 percent more than actual budget implementation in 2012 and 1.1 percent over the annual forecast for 2013.
Azerbaijan is bolstering its military power and defense capabilities year-on-year. The Azerbaijani armed forces are powerful, equipped with modern military machinery and capable of fulfilling any task.
The Azerbaijani army is the most powerful in the South Caucasus region. The skills and combat readiness of the Azerbaijani army are growing year on year. The army building process in Azerbaijan is progressing as well.
As of October 1, 2013 the funds accumulated in the Azerbaijan Armed Forces Assistance Fund amounted to 46,386,418 manats, $211,791 and 593 euros.
The goals of the armed forces fund which was established under the decree issued by the President on August 17, 2002 are to drive the development of Azerbaijan's armed forces, to strengthen the logistics and improve the social security of servicemen.