28 June 2013 10:32 (UTC+04:00)
1 425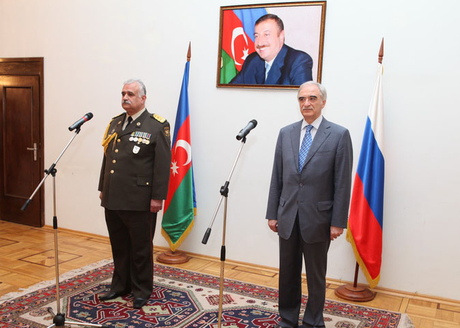 Azerbaijan`s embassy in Russia has organized on June 26 an official reception marking the 95th anniversary of Azerbaijani Armed Forces.
Speaking at the opening of the event, Azerbaijani ambassador Polad Bulbuloglu said:
"Today a parade was held in Baku. We have proudly viewed the day-by-day strengthening of Azerbaijani Armed Forces.
Of course, our army must take into consideration the current situation of the country and the delay of the Armenia-Azerbaijan conflict over Nagorno-Karabakh and must be ready to serious tests. Azerbaijani President, Azerbaijani government and Azerbaijani people try the peaceful settlement of the problem.
We don't want the bloodshed. But, at the same time, we all understand that no nation, no sovereign state will concede even a centimeter of its lands. We must find resolution. The Russians have good saying: "If you want peace, prepare for war". Today, the Azerbaijani government, and personally President Ilham Aliyev are doing their best to help Azerbaijani Armed Forces to fulfill duties".

Addressing the event, military attaché of the embassy Tofig Salmanov spoke of the history and development of Azerbaijani Armed Forces.

He stressed national leader Heydar Aliyev`s role in army building in the country.
The event brought together military attaches of the embassies in Russia, members of Diaspora and journalists.
Related News