22 May 2013 17:38 (UTC+04:00)
1 561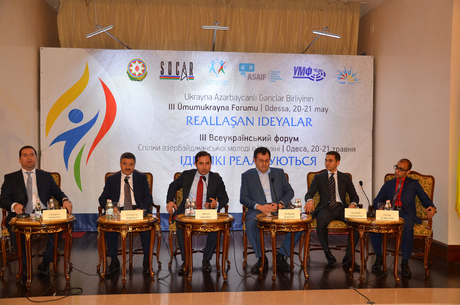 The third All-Ukrainian forum of the Union of the Azerbaijani Youth in Ukraine has held in Odessa.
The event is organized by the embassy of Azerbaijan to Ukraine and with the financial support of the State Oil Company of Azerbaijan and Azerbaijani Youth Fund.
The two-day forum drew 400 young people from 15 countries including Azerbaijan, Ukraine and European states.
The forum opened with a meeting of youth organizations of Azerbaijan and Ukraine.
It was followed by a session dealing with the Nagorno-Karabakh conflict. The session was addressed by Azerbaijani MP Jeyhun Osmanly, ambassador of Azerbaijan to Ukraine Eynulla Madatli, deputy minister of sport and youth Intigam Babayev, executive director of the All-Russian Azerbaijani Congress Neyman Nagdaliyev and Secretary General of ASAIF Vusal Gurbanov.
The session addressed the history of the conflict, existing realities and peace talks.
In conclusion, chairman of the Union of Azerbaijani Youth in Ukraine Anar Tairov read out the text of the declaration unanimously adopted by the participants of the forum in support of the candidacy of the Head of State Ilham Aliyev in the upcoming presidential elections in Azerbaijan.
"We are sure that under leadership of esteemed President Ilham Aliyev, the independent Azerbaijani state will walk the great path of development, cement its positions among the world`s most powerful nations, achieve importance successes to improve the welfare of our people," the document said.
Related News