8 May 2013 14:25 (UTC+04:00)
1 351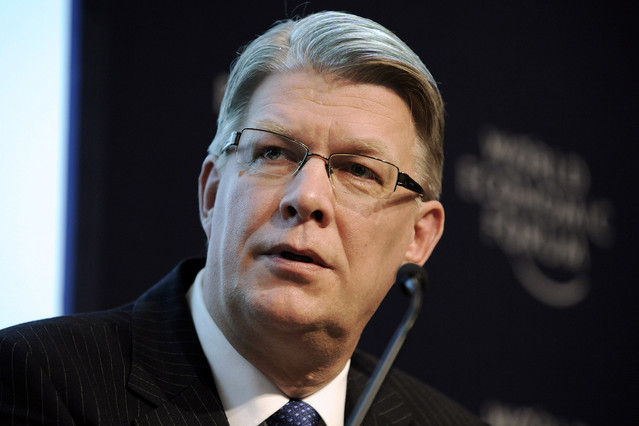 By Sara Rajabova
The international community should pay more attention to the settlement of the Armenia-Azerbaijan Nagorno-Karabakh conflict, former Latvian President Valdis Zatlers told journalists on the sidelines of the first South Caucasus Forum in the Azerbaijani capital Baku on Tuesday.
According to Zatlers, frozen conflicts may pose a threat to the whole world in the future, therefore, it's time to take action to address them. In particular, this refers to the Armenian-Azerbaijani conflict, upon which all efforts, including those of the mediating OSCE Minsk Group, have not been successful, he said.
"I understand that during the global financial crisis, the attention of many governments has focused not on the conflicts, but on solving their own problems. But now the time has come when we should deal with those issues that can be a problem for the whole world. I think that we should be active on this issue, we must seek new approaches to the resolution of the Nagorno-Karabakh conflict," Zatlers said.
Meanwhile, another former Latvian president, Vaira Vike-Freiberga, called on international organizations to come up with a more thorough approach to dealing with the plight of refugees and internally displaced persons.
"We believe that the EU and the UN will treat this issue more thoroughly," Vike-Freiberga said at the South Caucasus Forum in Baku.
"I was one of the seven million people who were forcibly displaced during the Second World War. We were forced to live in an alien atmosphere. World leaders should not allow the persecution of people," she said.
The first South Caucasus Forum in Baku was co-organized by Nizami Ganjavi International Center and Club de Madrid and supported by Azerbaijan's State Committee for Work with Diaspora. The forum is being attended by over 200 prominent political and public figures from more than 40 countries.
The Nagorno-Karabakh conflict emerged in 1988 when Armenia made territorial claims against Azerbaijan. Since a lengthy war in the early 1990s that displaced over one million Azerbaijanis, Armenian armed forces have occupied over 20 percent of Azerbaijan's internationally recognized territory, including Nagorno-Karabakh and seven adjacent regions.
The UN Security Council has adopted four resolutions on Armenia's withdrawal from the Azerbaijani territory, but Armenia has not followed them to this day.
Peace negotiations are underway on the basis of a peace outline proposed by the Minsk Group co-chairs and dubbed the Madrid Principles, also known as Basic Principles. The document envisions a return of the territories surrounding Nagorno-Karabakh to Azerbaijani control; determining the final legal status of Nagorno-Karabakh; a corridor linking Armenia to the region; and the right of all internally displaced persons to return home.
Related News