Azerbaijani Foreign Ministry replies to Ararat Mirzoyan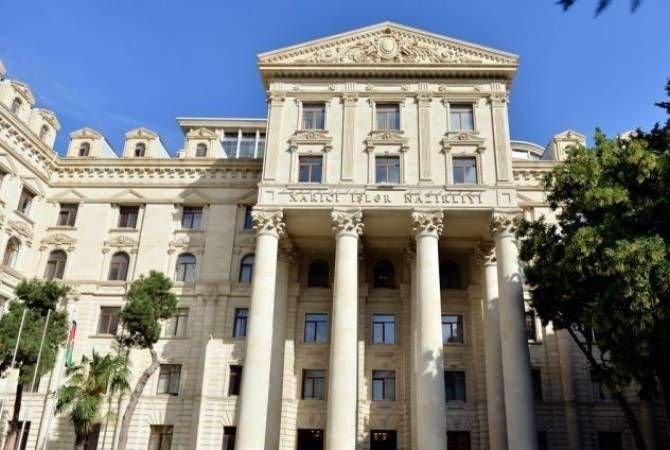 "We strongly condemn the biased statements once again made by Armenian Foreign Minister Ararat Mirzoyan on May 22 during a press conference with British Minister of State for the European Region Leo Docherty."
This is stated in the statement of the Ministry of Foreign Affairs of Azerbaijan.
As informed by Azernews with reference to the Azerbaijani Foreign Ministry that the unfounded allegations repeatedly made by Armenian officials that the alleged creation of the Lachin border checkpoint by Azerbaijan blocked the road, creates humanitarian problems in the region, and hinders the activities of the International Committee of the Red Cross are Armenia's attempts to distort the realities: "It is known that both Armenians, and representatives of the International Committee of the Red Cross, and the Russian peacekeeping contingent pass through the border checkpoint.
The Azerbaijani Foreign Ministry noted that the UK, which is a member of the UN Security Council, is well aware that Armenia has kept Azerbaijani territories under occupation for almost 30 years, committed massacres and ethnic cleansing, and also, contrary to the requirements of four resolutions of the UN Security Council, refused to withdraw its armed forces from the territory of Azerbaijan.
"Armenia's encouragement of sending an international mission to the territory of Azerbaijan, obstructing the dialogue of the Azerbaijani government with Armenian residents living in the Karabakh region of Azerbaijan, is regarded as interference in the internal affairs of Azerbaijan. If Armenia stands for peace and tranquility in the region, it must put an end to such interference.
As for the allegations about the presence of Armenian prisoners of war on the territory of Azerbaijan, we note that in many cases Azerbaijan returned prisoners of war captured during the war to Armenia free of charge. As for the group of Armenian servicemen sent by Armenia after the war with the aim of committing military provocations on the territory of our country, the Armenian leadership knows that they are not prisoners of war. Despite the fact that Azerbaijan, in good faith, returned almost half of the people from this group to Armenia, the Armenian side refuses to return two Azerbaijani soldiers who have gone astray and crossed into Armenian territory, thereby undermining confidence-building efforts.
We call on Armenia to refrain from dangerous rhetoric that is detrimental to ensuring peace and security in the region, to fulfill its obligations instead of continuing to unreasonably accuse Azerbaijan, thereby misleading the international community," the Foreign Ministry noted.
To recall, Armenian Foreign Minister Ararat Mirzoyan at a joint press briefing with UK Minister for Europe Leo Docherty said that Azerbaijan and Armenia were able to talk candidly about the rest of the articles. "I would also like to note that the parties understood each other better during the talks," he noted.
Mirzoyan added that the parties' positions on the most complex and problematic issues are very far from each other.
---
Follow Rena Murshud on Twitter: @RenaTagiyeva
Follow us on Twitter @AzerNewsAz