3 July 2019 16:12 (UTC+04:00)
1 755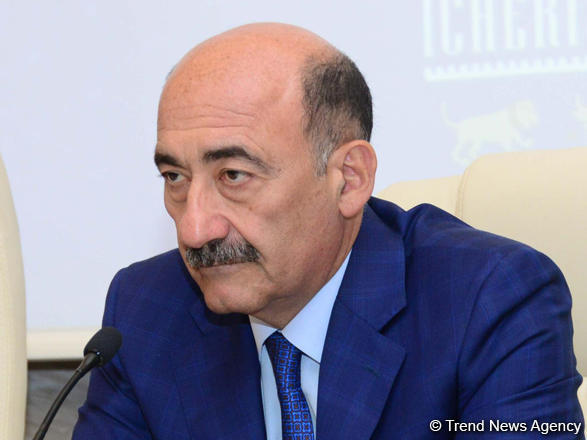 By Abdul Kerimkhanov
In order to destroy any signs of Nagorno-Karabakh's belonging to Azerbaijan, Armenia is making constant attempts to destroy cultural and historical monuments proving that Azerbaijanis are the original inhabitants in this area.
To prevent these inadmissible actions, international organizations, including UNESCO, needs to take more serious steps regarding preserving historical monuments in Azerbaijan's Nagorno-Karabakh region.
"UNESCO has expressed readiness to take more serious steps regarding historical monuments in Nagorno-Karabakh, and this work will be discussed by the organization and our diplomats," Azerbaijani Minister of Culture Abulfas Garayev told Trend on the sidelines of the 43rd Baku Session of the UNESCO World Heritage Committee.
He mentioned that Azerbaijan is raising serious questions before all UNESCO members about the need to protect cultural heritage in the Azerbaijani territory occupied by Armenia, and systematically informs them.
Garayev noted that this issue was raised at the meetings of UNESCO Director General Odra Azule both with President Ilham Aliyev and First Vice President Mehriban Aliyeva.
He stressed that this is not an easy process, but the main thing is that they [UNESCO] understood Azerbaijani realities and that Azerbaijan is concerned about the state of cultural heritage in the occupied Nagorno-Karabakh.
"Given that we are one of the active members of UNESCO, the organization cannot remain indifferent to this issue. We hope that discussions on this issue will continue," Garayev noted.
Previously, he stressed that for already 20 years, Armenia destroys the cultural monuments of Azerbaijan in the occupied territories. An appeal regarding this was addressed to UNESCO and the issue was raised at the current session in Baku, he added.
"Azerbaijan has been making efforts for many years in order to arrange the visit of the assessment committee to the occupied territories," Garayev noted.
In turn, UNESCO Deputy Director General Ernesto Ottone said the organization asks the parties to the Nagorno-Karabakh conflict to ensure the safety of their experts. In this case, UNESCO representatives can visit Nagorno-Karabakh, he added.
He mentioned that there are certain conditions for an expert mission to be carried out.
Armenians continue destroying the material and cultural heritage of Azerbaijanis in the occupied territories of Azerbaijan. The land and underground resources of Azerbaijan are being subjected to barbaric plunder in the occupied region of Karabakh, and are further taken to Armenia.
Unfortunately, international organizations are still reluctant to stop Armenia's actions, which are deprived of any humanity.
Related News