President Aliyev receives ADB Vice-President [UPDATE]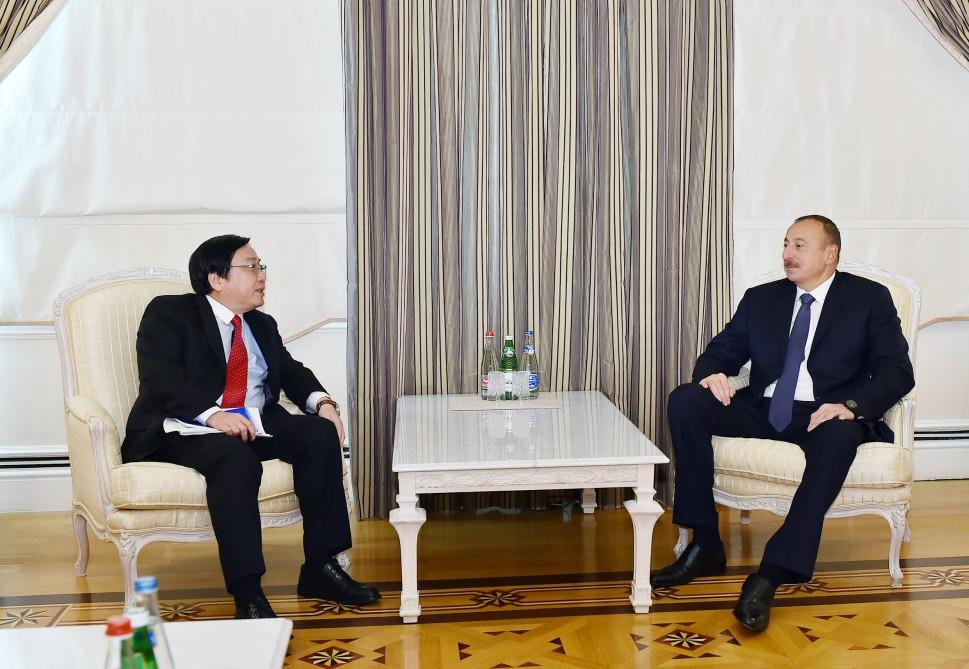 Azerbaijan's President Ilham Aliyev received Vice-President of the Asian Development Bank Wencai Zhang in Baku on November 14, Azertac reported.
The head of state praised the level of cooperation between Azerbaijan and the ADB and recalled with pleasure his meeting with President of the organization Takehiko Nakao during the 48th Annual Meeting of the ADB Board of Governors in Baku last year.
Hailing the success of the event that Azerbaijan hosted and participation of a large number of representatives from member states, President Aliyev underlined new dynamics in cooperation between Azerbaijan and the Bank.
Describing Azerbaijan as a reliable partner with financial capabilities, and the country which has always fulfilled its commitments, President Aliyev thanked Wencai Zhang for the important projects which ADB carried out in Azerbaijan, particularly for its supporting the Southern Gas Corridor project.
President Aliyev hailed the importance of the Southern Gas Corridor project not only to Azerbaijan, but to the region in a broader geography, including Europe.
Pointing to Azerbaijan-ADB cooperation in a number of other areas too, the head of state noted that most of the jointly implemented infrastructure projects have already been completed.
The President expressed his confidence that cooperation between Azerbaijan and ADB will continue, saying Vice-President Wencai Zhang's visit to the country created a good opportunity for discussing cooperation prospects and reviewing work done in recent years.
Wencai Zhang extended greetings of President of the Asian Development Bank Takehiko Nakao to President Ilham Aliyev.
He expressed his gratitude to President Ilham Alivev for supporting the organization of the 48th Annual Meeting of the ADB Board of Governors in Baku in 2015. Wencai Zhang praised very good cooperation between ADB and Azerbaijan.
He said ADB has allocated $ 2.8 billion to Azerbaijan since the country joined the organization in 1999.
Wencai Zhang said that apart from its own projects in Azerbaijan, ADB also supports and attaches importance to Southern Gas Corridor and Shahdeniz projects. He noted that a special council was set up at ADB to deal with these projects.
They emphasized the importance of ADB-supported infrastructure projects in Azerbaijan, including North-South railroad corridor, water supply, road expansion and other projects. ADB`s including such projects in its 2017-2019 funding program for Azerbaijan was hailed at the meeting.
---
Follow us on Twitter @AzerNewsAz