Lawyer: Blogger Lapshin may be extradited to Israel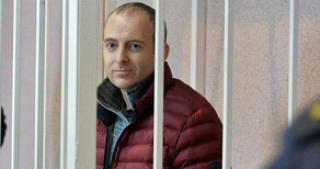 By Rashid Shirinov
Blogger Alexander Lapshin, a holder of a citizenship of Ukraine, Russia and Israel convicted in Baku last week, may be released before the expiry of his actual term of imprisonment.
The Baku Court on Grave Crimes sentenced last week the blogger Lapshin to three years of imprisonment on charges of his illegal visits to the Armenia-occupied Azerbaijani lands and a criminal conspiracy with the Armenians living there.
Lawyer Eduard Chernin told Trend after a meeting with his client on July 27 that procedurally Lapshin's period of detention is counted from the time of his arrest in Minsk with further extradition, because the legislation envisages that the term of imprisonment includes the time of detention of a person in custody pending trial.
"In addition, he can submit an appeal and if it is granted, he may be released before the end of the three years specified in the sentence," said the lawyer.
A day earlier, blogger Lapshin met with representatives of the Israeli Embassy in Azerbaijan and requested his extradition to Israel.
Chernin said that after the verdict against Lapshin will come into force in the second decade of August, it will be possible to consider blogger's extradition to Israel.
"Israel should make a relevant appeal to Azerbaijan's Justice Ministry, so that to consider his extradition," said Chernin.
Lawyer also added that Lapshin has neither complaints about the content, nor health problems.
Meanwhile, the Russian Embassy in Baku refused to comment on the court decision with regard to Lapshin. "The Russian Embassy does not consider itself entitled to comment on the decision of the Azerbaijani court," press attaché of the Embassy Denis Apashkin told RIA Novosti on July 25.
He said the Embassy will continue to participate in the protection of Lapshin's rights within its competence.
Blogger Lapshin violated Azerbaijani laws on state border in April, 2011 and October, 2012. Helped by his accomplices in the occupied territories, Lapshin paid a number of visits to Azerbaijan's occupied lands, where he voiced support for "independence" of the illegal regime, and made public calls against Azerbaijan's internationally recognized territorial integrity on April 6 and June 29, 2016.
The blogger was arrested in Minsk in late 2016 and transferred to Baku in February 2017.
By the decision of the Baku Court on Grave Crimes, Lapshin will serve his three-year sentence in a general regime colony.
Unauthorized visits to Nagorno-Karabakh and other regions of Azerbaijan occupied by Armenia are considered illegal, and any individuals paying such visits are included in the Azerbaijani Foreign Ministry's "black list."
---
Rashid Shirinov is AzerNews' staff journalist, follow him on Twitter: @RashidShirinov
Follow us on Twitter @AzerNewsAz