Azer-Ilme explores Azerbaijani carpets in Russian museum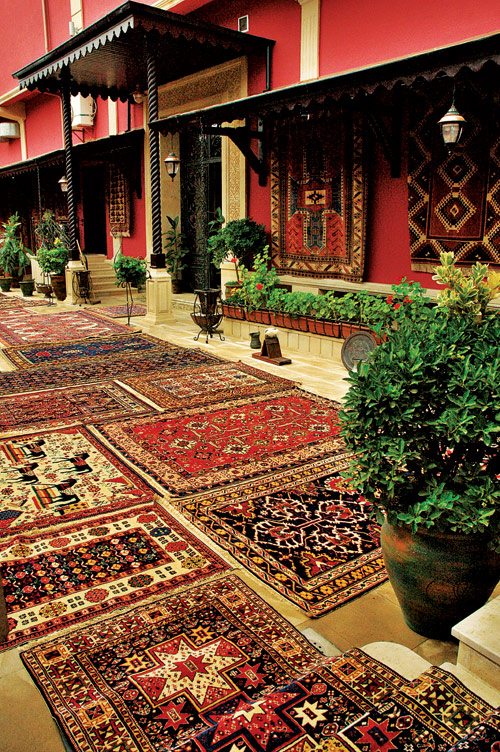 By Nigar Orujova
Azer-Ilme carpet waving company held a comprehensive study on Azerbaijani carpets exhibited at the Russian State Museum of Oriental Art, the company reported.
Most of the Azerbaijani carpets are misnamed and in some cases they are presented as examples of the material culture of other nations. The research work is conducted jointly with the museum.
The research group led by Azerbaijan's Honored Art Worker, Professor Vidadi Muradov, included historians, ethnographers, weavers, art critics of various research centers of both Azerbaijan and Russia.
International relations established by the company have already resulted in obtaining information about Azerbaijani carpets stored in a number of well-known museums of the world.
Azerbaijani carpets are decorating exhibits in such prestigious museums of the world as Metropolitan Museum, Victoria and Albert Museum and widely covered in the journal "Azerbaycan xalchalari" (Azerbaijani carpets).
By introducing Azerbaijani carpets to the world, the Azer-Ilme company contributes to the development of the traditional art of carpet weaving in Azerbaijan, which has made an invaluable cultural and material contribution to the world civilization.
This April, the company opened 'Azerbaijani carpets', the legend of nodules' gallery-boutique in Kuznetsky Bridge Street in Moscow, the first official Azerbaijani carpets' store in Russia. A collection of old and modern masters of Azerbaijani needlework is available at the gallery-boutique.
The company has put on display splendid Azerbaijani carpets in America's Atlanta, Germany's Hannover, and Russia's Moscow.