"Love Me, Love Me Not" opens in Baku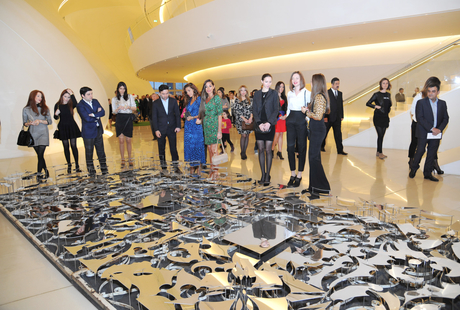 By Nigar Orujova
Baku hosted opening of the "Love Me, Love Me Not: Contemporary Art from Azerbaijan and its Neighbors" exhibition at the Heydar Aliyev Center on April 3.
The opening ceremony of the exhibition, which will be held at the center until May 25, was attended by officials, cultural and art figures, as well as prominent artists.
Head of YARAT! Contemporary Art Space Aida Mahmudova welcomed the event participants, and provided an insight into the exhibition. She said the exhibition featured works of well-known artists from different cultures.
The exhibition debuted at the 55th Venice Biennale in 2013, puts on display the recent works of 16 artists from Azerbaijan, Iran, Russia, and Georgia. "Love Me, Love me Not" successfully helped to further develop the modern Azerbaijani art internationally.
Organized and supported by YARAT, a not-for-profit contemporary art organization based in Baku, "Love Me, Love Me Not" is curated by Dina Nasser-Khadivi.
She noted, the title of the exhibition was invented by Dina Nasser-Khadivi and in her opinion describes the reality of the history of Azerbaijan.
Azerbaijan, which has witnessed many historical vicissitudes, now finally reached stability and peace, and all these historical factors are reflected in the works mostly created for this exhibition.
Artists featured include Faig Ahmed, Rashad Alakbarov, Ali Hasanov, Rashad Babayev, Orkhan Huseynov, Sitara Ibrahimova, Aida Mahmudova, and Farid Rasulov, as well as other talented artists.
The exhibition offers a diverse range of media and subject matters with video, installation, and painting all on show. Pieces range from those steeped in historical reference to those with more site-specific responses and those, which are inspired by personal history.
Faig Ahmed takes the motifs found in Azerbaijani carpets as a starting point for his work, reinterpreting these to underline the rapid shift Azerbaijan is experiencing towards modernity, while Ali Hasanov uses a contemporary appropriation of everyday materials.
By bringing artists from Azerbaijan and its surrounding region together in one exhibition, "Love Me, Love Me Not" will create new perspectives on the contemporary art of Azerbaijan, as well as that of Iran, Russia and Georgia.