Vagif Poetry Days kick off in Gazakh [PHOTOS]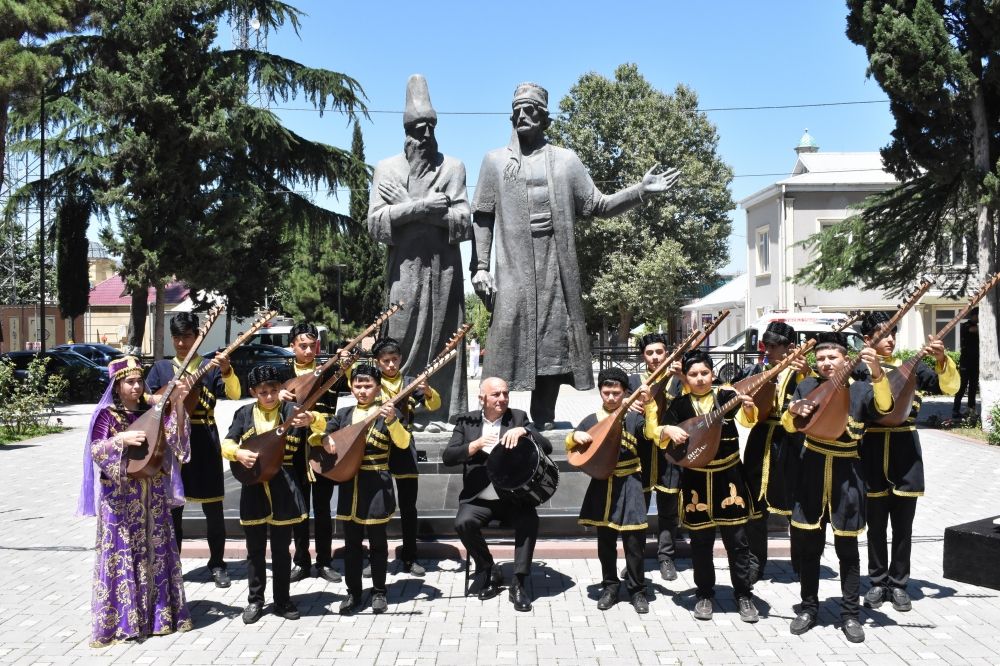 Vagif Poetry Days have kicked off in Gazakh.
Co-organized by Heydar Aliyev Foundation, the Culture Ministry and Azerbaijan Writers' Union, the event promises an interesting program on July 13-15, Azernews reports.
The festival began on July 13 with the laying of flowers at the bust of Vagif in the poet's hometown-Gazakh's Yukhari Salahli village.
Well-known cultural and art figures, members of the Writers' Union, young writers and poets gathered in the Thinkers' Park, located in the center of Gazakh city.
In his opening remarks, Deputy Culture Minister Murad Huseynov stressed the importance of Vagif Poetry Days
He underlined that after the liberation of Shusha, one of the first presidential orders concerned the holding of the Kharibulbul Festival and Vagif Poetry Days in the liberated city.
Since 2021, both projects are being implemented by the Heydar Aliyev Foundation and the Culture Ministry.
The Deputy Culture Minister briefed the guests of the event about the life of an outstanding poet.
He noted that Vagif was born in Gazakh, but became famous in Shusha, where he was buried. Vagif Poetry Days, which started in Gazakh, will continue on July 14-15 in Shusha, known as Azerbaijan's cultural capital.
Secretary of the Azerbaijan Writers' Union Ilgar Fahmi underlined that the festival is being held for the third year in a row since the city was liberated from occupation.
"Back in Soviet times, Vagif Poetry Days took place in Vagif's homeland - in Gazakh, and continued in Shusha. So, it was decided to hold Vagif Poetry Days also in Gazak. The project has already been launched," he said.
Literary scholar Rustam Kamal said that the poet played an exceptional role in laying national ethnic codes in Azerbaijan`s written literature, by creating the image of the Azerbaijani people in poetry.
"Vagif is a complete poetry of light. In his poems, such words as "light", "lantern", "fire" are the most significant, most used and most noticeable. President Ilham Aliyev and the Heydar Aliyev Foundation patronize our culture, literature, and classics. This plays a huge role in their revival in the memory of the nation. As an intellectual, I thank the leadership of the country for this," he added.
Poet-publicist Akbar Goshaly noted that tomorrow the event participants will leave Gazakh for Shusha, where Vagif Poetry Days will continue.
The holding of Vagif Poetry Days in the cultural capital of the Turkic world is also of great importance.
The poet Ibrahim Ilyasli also spoke about Vagif's invaluable merits in Azerbaijani literature and about the wealth brought to it by his work.
Next, poets and ashugs were invited to the stage to perform the poet's ghazals.
---
Follow us on Twitter @AzerNewsAz