"YARAT" to held theater training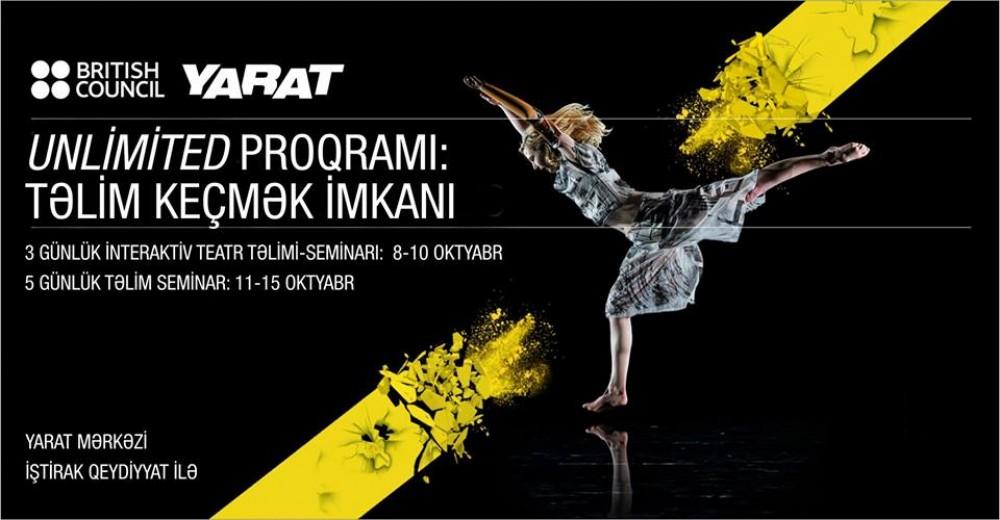 By Naila Huseynli
British Council Azerbaijan and YARAT Contemporary Art Space will bring together disabled and non-disabled people within the framework of "Unlimited" program at YARAT on October 8.
The training will be conducted by theater designer and lecturer Karin Chopman Clark. The main objective of the project is to make hear disabled and non-disabled performers' voice though using different theater techniques, storytelling and improvisation and to give an opportunity to show themselves.
Training will be held in two stages, from October 8 to 10 and from October 11 to 15.
During the training, the participants will improve the methods of storytelling and image creation and learn how to present different points of view in different styles which can help them to solve problems in a positive way. In addition, the participants will be acquainted with the preparation of the Forum-theater performance and the organization of a public Forum session. Along with three-day training, the British Council will also organize five-day training for disabled and non-disabled actors. This training will be open to everyone. Thus, actor experience is not required. Five-day training workshops are designed for professional and non-professional actors who want to learn how to use interactive theater techniques to overcome various social issues. In this training, participants will improve their storytelling and image creation methods and introducing different perspectives in different styles will help them to find solutions for problems in a positive way.
Entrance to both courses is free of charge, but registration of participants is required. Fill out the registration form and send an e-mail to [email protected] no later than October 4.
YARAT is a not-for-profit organization dedicated to nurturing an understanding of contemporary art in Azerbaijan and to creating a platform for Azerbaijani art, both nationally and internationally. Based in Baku, YARAT (meaning CREATE in Azerbaijani) was founded by Aida Mahmudova in 2011.
It realizes its mission through an on-going program of exhibitions, education events and festivals. YARAT facilitates exchange between local and international artistic networks including foundations, galleries and museums.
YARAT comprises YARAT Art Centre, ARTIM Project Space, YARAT Studios, YAY Gallery and an extended educational and public programme.
---
Follow us on Twitter @AzerNewsAz