Baku's liberation anniversary to be celebrated by conert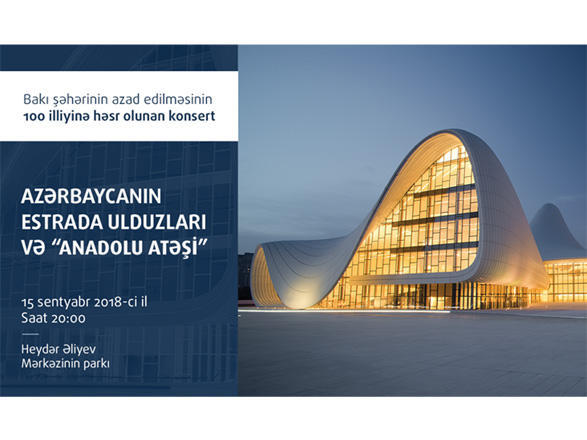 By Naila Huseynli
A concert dedicated to the 100th anniversary of the liberation of Baku will be held in the park of Heydar Aliyev Center, on September 15, at 8 pm.
The Center informs that the concert will feature pop singers and music groups of Azerbaijan, as well as the Turkish dance group "Anadolu ateshi" ("Lights of Anadolu"). Songs dedicated to the Motherland, love of Baku, Azerbaijani-Turkish brotherhood, as well as popular songs will be performed.
People's artists of Azerbaijan Aygun Kazimova, Eyub Yagubov, honored artists Lala Mammadova, Tunzala Agayeva, Sevda Alakbarzade, Sabina Babayeva, well-known performers Natavan Habibi, Jeyhun Zeynalov, Murad Arif, as well as the groups "Gaya" and "Rast" will take part in the event. The famous Turkish group "Anadolu ateshi" will impress the guests of the evening with its mesmerizing dances.
The entrance to the concert is free.
On September 15, 1918, Baku was liberated by the Caucasian Islamic Army, comprised of Azerbaijani and Turkish soldiers, led by Turkish General Nuri Pasha. Thus, Azerbaijan gained independence and the domination of Armenians and Bolsheviks in Baku and surrounding areas came to an end.
Despite the difficult situation, the Ottoman Empire sent military force to Azerbaijan under the command of Nuri Pasha in order to ensure the territorial integrity of Azerbaijan.
Although the European states opposed the arrival of Turkish troops in Azerbaijan, in August-September 1918 the Ottoman Empire fulfilled its historic mission with dignity.
On September 15, the Caucasian Islamic Army and the Azerbaijani Corps liberated Baku from occupation. After this historic date, the capital was transferred from Ganja to Baku.
The Azerbaijani people will always remember the fraternal assistance of the Turkish army, and honor the memory of the Turkish soldiers who gave their lives for the freedom of the country.
---
Follow us on Twitter @AzerNewsAz