Large-scale installation presented in Baku [PHOTO]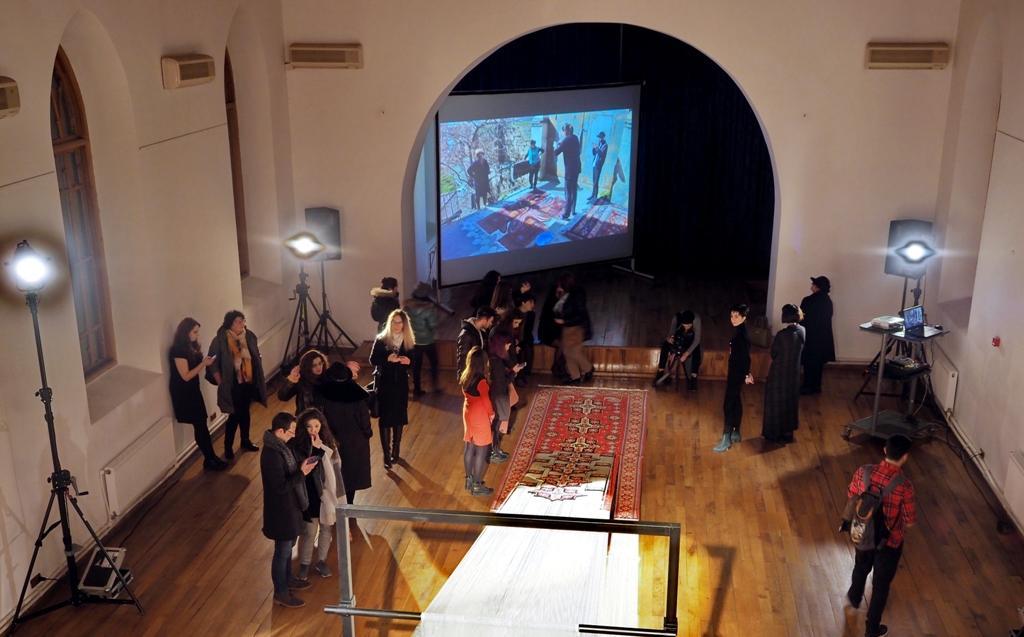 By Laman Ismayilova
An installation of national artist Faig Ahmad was presented in German-Azerbaijan Cultural Society "Kapellhaus" on December 13.
The event is organized within Silk Road Music Festival held by Goethe-Zentrum Baku on December 5-14, Day.Az reported.
The festival brought together talented singers and artists from Germany, Turkey, Georgia, Kazakhstan and Azerbaijan.
Azerbaijan's famous artist Faig Ahmad conceptualized carpets, expanding traditional carpet weaving with new meaning. However, despite innovative forms and artistic solutions, his work creation process is quite traditional: for centuries, little has changed in the creation of hand-made carpets.
A sculptor by education Faig Ahmad refers to carpets as two-dimensional (2D) sculptures.
Artist who made use of digital technology distorts and rearranges the traditional eastern carpet patterns and creates contemporary art pieces. He also experiments with complex multidimensional fluid forms, challenging the weaving technologies and the imagination of spectators.
The large-scale carpet installation of Faig Ahmad "10 (-35)" is considered his one of the most ambitious art works. Stretching for more than 15 meters, it refers to the theme of the origin of carpet weaving. Fringe, hidden behind the carpet knots, warp threads, became the central part of the installation.
In this installation as well as in traditional carpet weaving, the stretching of yarns plays an important role: if they are stretched unevenly on the loom, this leads to an inevitable and irreparable deformation process of the carpet.
In installation, the stability of the entire structure is achieved by the uniform stretching of the threads.
Masters of carpet weaving moved to the geometric patterns of the carpet Faig Ahmad design, created under the influence of planck length (equal to 1.616229 (38) × 10-35 meters shortest length with three main variables).
By the way, the installation and a documentary about the artist, shot in the spring by the Museum of Textile Boras in Sweden was shown in Baku for the first time.
The exhibition will last until January 31, 2018 and is open for visits from 15:00 to 20:00 every day, except on Sundays and public holidays. Before the close of the exhibition, Faig Ahmad will hold a meeting-lecture with fans of his art. Details will be announced on artist's page in Facebook.
Further, music lovers enjoyed a concert by "Divan Acoustic" ensemble in the same venue.
Notably, Goethe-Zentrum Baku is a branch of the Goethe Institute, a cultural institution of the Federal Republic of Germany, whose branches operate in many countries of the world. The organization aims at popularizing the German language abroad and expanding international cooperation in the field of culture.
Honored artist of Azerbaijan, musician and composer Rain Sultanov was the organizer and curator of the festival`s musical part. The curator of the artistic part was the initiator of cultural projects Asli Samadova.
Photos: Arkady Mitnik
---
Laman Ismayilova is AzerNews' staff journalist, follow her on Twitter: @Lam_Ismayilova
Follow us on Twitter @AzerNewsAz