Azerbaijan to introduce compulsory medical insurance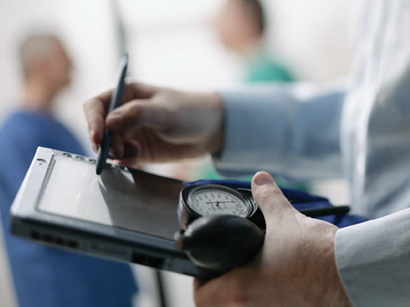 By Nigar Abbasova
Azerbaijan is currently drafting a pilot project on the implementation of compulsory health insurance.
The final decision on the introduction of compulsory medical insurance will be made after the examining of its positive and negative aspects.
The project, which is expected to last approximately 6-9 months, suggests all citizens to get a universal health insurance card and all doctors, clinics and hospitals to offer free treatment and prescription drugs at the point of care and then charge the cost to the insurance fund.
The pilot project will initially be presented for the consideration of the government. The main objective of the project is to provide citizens with full medical services. Compulsory medical treatment will apply to the country's citizens and temporary residents. Applying compulsory medical insurance firstly will begin at state hospitals.
The State Agency for Compulsory Medical Insurance and Ministry of Heath will provide control over the quality of services in this sphere. The agency will also be eligible for the accreditation of medical institutions of Azerbaijan.
Implementation of compulsory medical insurance in Azerbaijan is planned within the framework of health care reform. Interest of the population in insurance sector has increased in recent years. The system is widely used in most of the European countries. Besides raising people's access to health care services, this might also prevent unofficial payments within the system. One of the main principles of the system is social equality, all citizens regardless their health, age will be able to make use of the insurance.
Azerbaijan has only voluntary medical insurance currently. Experts believe that the current absence of mandatory health insurance does not allow health care to reach a new level of quality.
The country has a legal basis for compulsory health insurance. The law on medical insurance was adopted in 1999. In accordance with the law, a compulsory form of medical insurance is an integral part of the state social insurance policy. State agency for Compulsory Medical Insurance was established in 2007. The agency is currently carrying out awareness campaigns, trainings for media and makes social advertisements. Main purpose of the agency is to offer qualitative, high-level and operative services for insured persons.
--
Follow us on Twitter @AzerNewsAz