18 May 2016 18:08 (UTC+04:00)
1 898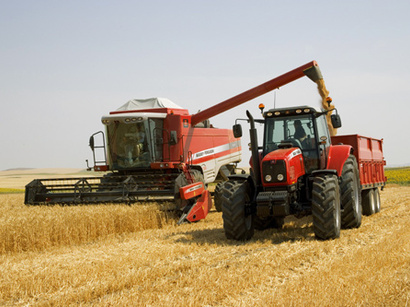 By Nigar Abbasova
The Azerbaijan Agriculture Ministry intends to upgrade the system of subsidies allocated for the entrepreneurship in the sphere of agriculture.
"The Ministry has united subsidy allocations to farmers on fuel, engine oil and grain in an effort to facilitate the process," Ilham Guliev, Deputy Minister of Agriculture said.
The Ministry also created regional agencies on subsidy allocation to ensure efficiency and transparency in grant allocation. The Agriculture Ministry offers to enhance targeted agricultural subsidies. In accordance with proposals made by the ministry, subsidies which have been previously allocated only for seeding grains and planting stocks will also be issued for sowing of cotton and tobacco.
The Ministry has defined subsidy rates, which are used in relation to mineral fertilizers. The amount of subsidies for land use is 100 manats ($66.52) for each hectare of cultivation area.
The government allocates subsidies since 2007. In accordance with the law on Allocation of tax remissions to manufacturers of agricultural goods, dated 2001, manufacturers of agricultural goods are exempt from all taxes (with the exception of land tax).
"Ministry of agriculture plans to submit a report on out-of-use lands for the governmental consideration by the end of this year," deputy minister said.
The Administration on Agricultural Industry, which have already been created in the field, will held a monitoring of out-of-use lands and inform the government on the situation. "Main objective is proper use of the lands, in particular, use of the lands for the production of agricultural goods. We have already implemented several projects in this direction, by the end of the year we will submit a report and will take all necessary measures specified in the legislation," Guliyev said.
He noted that within a short period of time the country will be able to provide itself with braid grain. One of the main objectives is to provide all necessary agricultural products. For now we are unable to provide for 100 percent of grain and definite part of this product is imported. Quality of locally produced grain meets all requirements and corresponds to international standards.
He also added that water tariff increase will not influence the irrigation process of lands which are allocated for growth of agricultural products. The Ministry is currently working on ensuring water supply timely.
Agricultural sector in Azerbaijan is a central direction in a bid to diversify the national economy. The government supports the development of agriculture at the state level, ensures all necessary brand-new equipment, implements various agricultural projects aimed at increasing volume of domestic production and expanding range of the goods and entering foreign market.
---
Follow us on Twitter @AzerNewsAz
Related News