4 November 2014 13:48 (UTC+04:00)
1 667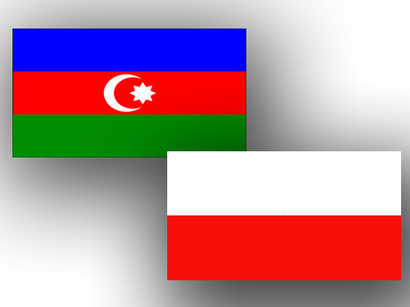 By Aynur Jafarova
Azerbaijan and Poland are planning to further expand cooperation in agricultural sector.
This was said during a meeting between Azerbaijan's Agriculture Minister Heydar Asadov and his Polish counterpart Marek Sawicki in Baku on November 4.
The two sides discussed the possibilities of future cooperation between the two countries in agricultural sector.
Speaking at the meeting, Asadov said Azerbaijan is historically an agrarian country.
"Some 37-38 percent of the country's population is engaged in agriculture, which has been developing rapidly after Azerbaijan's gaining state independence. Agriculture is a priority field of the country's non-oil sector," he noted.
The Azerbaijani minister also mentioned the importance of high level of cooperation and export-import capacity between the two countries in the agrarian field and use of Poland's experience in this field.
During the meeting, Asadov also set forth some proposals for expanding cooperation between Azerbaijan and Poland. In particular, he offered to establish a regular exchange of experience in the implementation measures in the agricultural field, to cooperate in the field of training of personnel, as well as to provide information about the Polish companies with export potential and their products.
The minister also proposed to implement joint projects in the field of development of certified potato growing, to extend legal framework in the agrarian field, to sign an agreement on cooperation between the ministries in scientific and technical field and protection of plants in order to attract investment in the agricultural business and to facilitate bilateral trade of agricultural products.
Another proposal was expanding cooperation in the field of training personnel in virology, bacteriology and toxicology through conducting seminars and trainings with participation of Polish experts engaged in the identification of the GMO.
Sawicki, for his part, said Poland pays significant attention to cooperation with Azerbaijan.
He noted he will do his best for further expansion of ties between the two countries.
Poland recognized Azerbaijan's independence on December 27, 1991. The diplomatic relations between the two countries were established on February 21, 1992.
The trade turnover between them amounted to 62.9 million mantas in the first nine months of 2014.
Related News